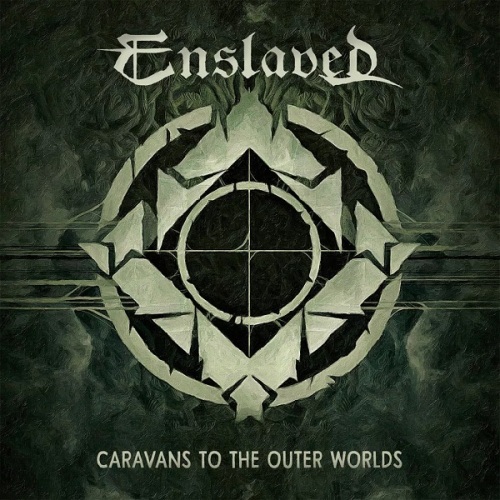 ENSLAVED
Titel: CARAVANS TO THE OUTER WORLD EP
Spieldauer: 18:12 Minuten
Die norwegischen Progressiv Viking Metaller von ENSLAVED legen ja mittlerweile – oder Corona bedingt – ein Arbeitstempo vor, das sich gewaschen hat. 2020 erst haben sie mit "Utgard" ihren letzten Studiodreher vorgelegt, der dann mangels Touring mit dem aufwändigen Boxset der "Cinematic Tour 2020" bedacht worden ist, was in der Zusammenstellung auch sicher einiges an Aufwand erforderte.
Nun gibt es eine EP mit vier Songs. Wobei es sich eigentlich um zwei, jeweils rund sechs minütige Songs handelt, die durch zwei Instrumental-Sequenzen verbunden werden.
Die beiden Instrumentalen Tracks sind gewohnt progressiv, das Outro 'Intermezzo II-The Navigator' fast schon jazzig. Die beiden "richtigen" Songs hingegen haben zwar ihre, von ENSLAVED mittlerweile gewohnten, progressiven Parts, weisen aber eine durchaus erfreuliche Härte auf, die gerade beim Opener, dem Titeltrack des Vier-Trackers 'Caravans To The Outer World' beinahe überrascht.
Da bin ich doch gespannt, wie der hoffentlich baldig zu erwartende neue Longplayer ausfallen wird. Die EP macht jedenfalls Appetit auf mehr.
Ludwig Lücker vergibt keine Bewertung