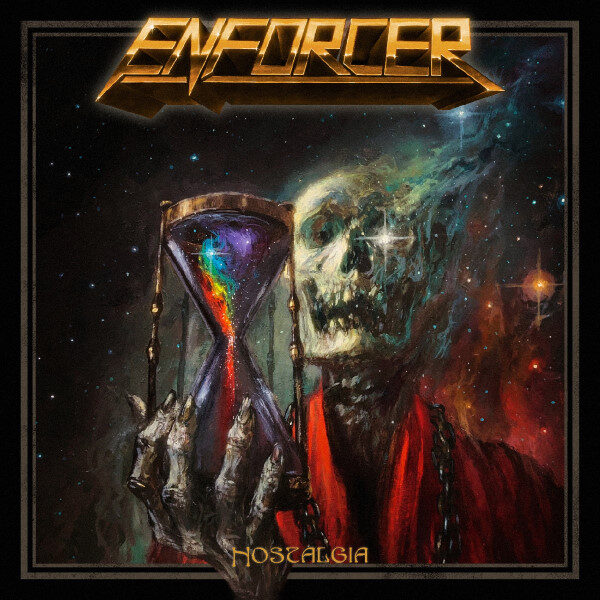 ENFORCER
Titel: NOSTALGIA
Label: NUCLEAR BLAST RECORDS
Spieldauer: 41:39 Minuten
VÖ: 05. Mai 2023
Vier Jahre nach ihrem in Fan- und Kritikerkreisen durchaus kontrovers aufgenommenen "Zenith" veröffentlichen die schwedischen Speeder ENFORCER jetzt endlich ihr sechstes Album "Nostalgia", das den (meiner Meinung nach sicher nicht schwachen) Vorgänger in einiger Hinsicht in den Schatten stellt. Das fängt schon mit der Produktion an, die auf "Nostaglia" wieder erheblich lebendliger klingt.
Nein, stilistisch ENFORCER haben keine komplette Rolle rückwärts zum lupenreinen Speedmetal gemacht, treten bei Speed-Krachern wie 'Coming Alive', 'Kiss Of Death', dem spanische eingesungenen 'Metal Supremacía' und dem abschließenden 'When the Thunder Roars (Crossfire)' aber auch weiterhin gerne aufs Gas und klingen bei allen vier Songs wieder weitaus überzeugender als auf den gefühlten "Alibi-Speedsongs" von "Zenith".
Ansonsten regiert auf "Nostalgia" meist purer Metal mit mehr oder wenniger starkem AOR-Einschlag. Der saugeile, absolut mitreißende Opener 'Unshakle Me', 'Demons' und das teilweise funkige 'Keep The Flame Alive' sind absolute Volltreffer. Etwas stärker ist der "AOR-Ausschlag" bei den teilweise fast schon "kitschigen", aber trotzdem irgendwie mitreissenden 'No Tomorrow', 'At The Rainbow', "White Lights In The USA' oder der geilen Halbballade 'Heartbeats'. Wirklich ZU viel Pathos hat allein der Titelsong 'Nostalgia', der teilweise an Sinatras "My Way" erinnert.
Fazit: "Nostalgia" ist eine geile Scheibe, die sowohl song- als auch produktionstechnisch um einiges zwingender als "Zenith" ist, hoffentlich auch wieder ein paar "Altfans" der Band mehr anspricht und wünschenswerterweise noch einige weitere Fanschichten erschließt. Hoffe jetzt auf kommende Live-Auftritte – denn in dieser Hinsicht sind ENFORCER ja sowieso eine Macht.
Joe Nollek vergibt 9 von 10 Punkten