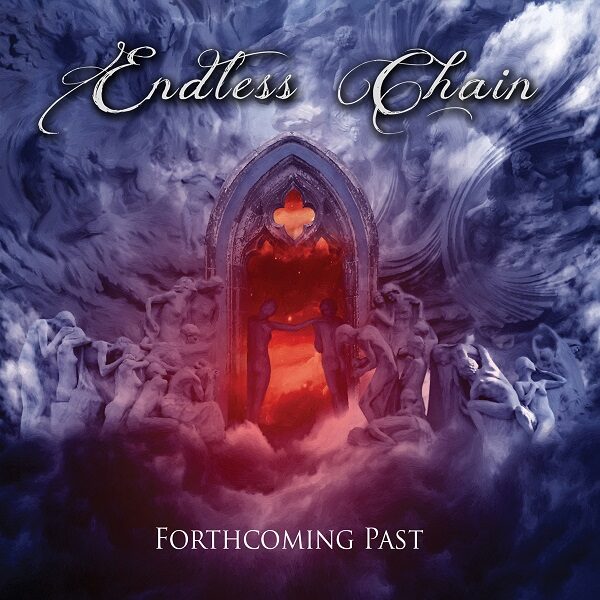 ENDLESS CHAIN
Titel: FORTHCOMING PAST
Spieldauer: 44:19 Minuten
Innerhalb von fünf Jahren hat der finnische Songwriter und musikalische Spätstarter Timo Mölsä dieses reine Studio-Projekt inklusive eines faszinierenden Debüt-Albums namens "Forthcoming Past" auf die Beine gestellt. Inszeniert wird dabei eine Mischung aus ein wenig Melodic Death und viel Doom und Gothic Metal. Dabei assistieren ihm die vier Sänger Mikko Heikkilä (Kaunis Kuolemation, Dawn Of Solace, Black Aeon Sun), Ville Hovi (Blackstar Halo), Aki Salonen (Nemecic) und Salla Sundberg sowie weitere Albumgäste, darunter Sami Yli-Sirniö (Kreator, Waltari), Antti Kolehmainen (Waltari) und am Schlagzeug Samuli Mikkonen (Korpiklaani).
Die zehn Kompositionen sind überwiegend in langsamem Tempo und einer düster-melancholischen Grundstimmung gehalten. Es gibt packende Melodien, reduzierte Arrangements, aber auch das ein oder andere Solo zu entdecken. Als Referenzen bzw. Einflüsse werden Anathema, Katatonia und Amorphis genannt. Für mich hört sich das Ganze nach sehr viel 90er Paradise Lost mit einem Spritzer Tiamat und einer Prise Moonspell an. Zudem kommen mir in den "schnelleren" Momenten immer wieder die leider verblichenen Sentenced in den Sinn.
Die Vocals des Openers und Titelsongs klingen nach Ozzy und auch gewisse stilistische Parallelen zu dessen nicht ganz unbekannter Band sind da nicht allzu weit hergeholt. 'They're The Ones To Fall' und 'Scars On Me' legen ein wenig mehr Tempo vor und glänzen mit grandiosen, durchaus eingängigen Refrains. Der stampfende Drum-Beat von 'All Of The Above' hat etwas industrial-haftes und das hymnische 'Nothing More' darf 2021 eigentlich in keiner gut sortierten Dark Metal-Playliste fehlen. Die beiden letztgenannten und der Titelsong werden zudem durch die gutturalen Vocals von Aki Salonen angereichert und dynamisiert.
Weitere Anspieltipps einer ungemein stimmungsvollen und packenden Scheibe sind das emotionale 'Feel', bei dem einmalig die weiblichen Vocals von Salla Sundberg zum Einsatz kommen, und das grandiose 'The Wild One'. Faszinierendes Debüt mit einer dunklen Atmosphäre, das dem Hörer großartige musikalische Momente bereitet, wenn er sich auf die spannende Mischung und die düstere Stimmung einlässt.
Michael Gaspar vergibt 8 von 10 Punkten