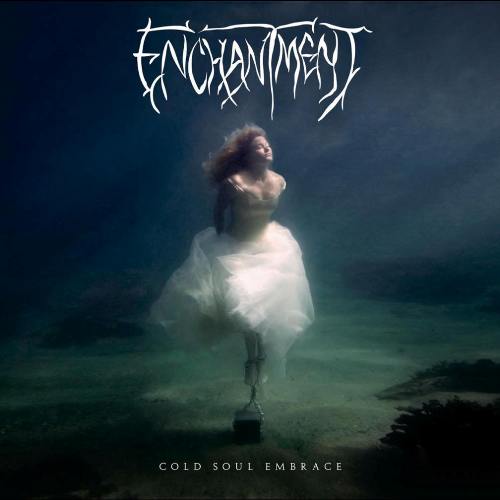 ENCHANTMENT
Titel: COLD SOUL EMBRACE
Label: TRANSCENDING RECORDS
Spieldauer: 43:41 Minuten
VÖ: 24. Juni 2022
Die Doom/Deather ENCHANTMENT aus Lancastershire haben in den neunziger Jahren nur eine recht kurze Zeitspanne existiert  – von 1991 bis 1994 – und dabei das Album "Dance The Marble Naked" veröffentlicht.
Im Jahr 2019 haben sich die Jungs bis auf den Schlagzeuger in Originalbesetzung wieder zusammen gefunden und kredenzen uns heuer überraschend ein schönes, neues Kleinod.
Der harsche Death/Doom von ENCHANTMENT wird immer wieder aufgebrochen durch epische Parts, fragile rockige Elemente und melodische Leads.
So werden Songs wie der abwechslungsreiche, alle Facetten der Band abdeckende Opener 'As Greed As The Eye Beholds', das erst locker rockende, dann pumpende 'A Swanlike Duet' mit seinen leicht verfremdeten Klar-Vocals, der walzende Doom/Deather Painting Among The Feathers' mit seinem melodischen Lead, das symphonisch beginnende und dann groovende, treibende 'Of Glorious Vistas Forgot' sowie 'In A Cello Felt Glare' zu schönen Doom/Death Kleinoden, die das Anhören auf jeden Fall lohnen.
Wenn die letzten beiden Tracks den anderen gegenüber nicht etwas ins Hintertreffen geraten würden, wäre sogar noch mehr drin gewesen. Ein geiles, abwechslungsreiches Doom/Death Album in alter englischer Tradition haben ENCHANTMENT allemal geschaffen.
Ludwig Lücker vergibt 8,5 von 10 Punkten