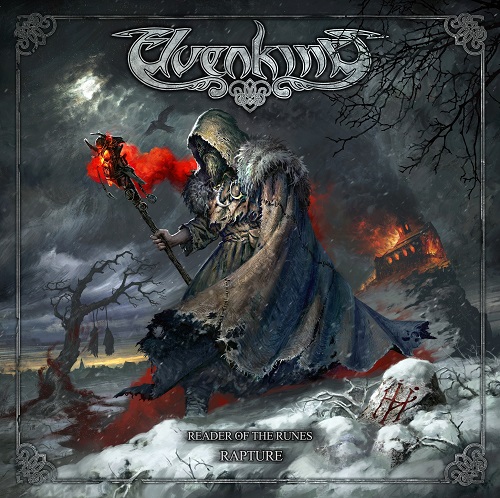 ELVENKING
Titel: READER OF THE RUNES: RAPTURE
Spieldauer: 54:42 Minuten
VÖ: 28. April 2023
Der italienische Sixpack ELVENKING veröffentlicht mit "Rapture" Teil zwei der monumentalen, 2019 mit der Eröffnung "Divination" gestarteten, "Reader of the Runes"-Trilogie und bereits den elften Longplayer der Bandgeschichte.
Damna (Gesang), Aydan (Gitarren), Headmatt (Gitarren), Lethien (Violine), Jakob (Bass) und Symohn (Schlagzeug) vermischen Elemente des Heavy, Pagan, Folk und Melodic Death Metal in mächtigen Hymnen zu einer epischen musikalischen Essenz.
Begleitet und perfekt in Szene gesetzt von Produzent Scott Atkins (Cradle of Filth, Behemoth), der gleich auch noch Mix und Mastering übernahm, beginnt der neue Silberling mit dem bockstarken Anfangsdoppel aus dem mächtigen Eröffnungs- und Quasi-Titelsong sowie dem mordsmäßigen Ohrwurm `The Hanging Tree´.
Die Band beweist ein Händchen für mitreißendes Songwriting, welches auch die nötige Eingängigkeit nicht vermissen lässt. Die folkigen Parts wirken einerseits omnipräsent, werden andererseits aber immer passend, wohlüberlegt und -temperiert und vor allem überaus songdienlich eingesetzt.
So auch beim folgenden flotten `Bride Of Night´, das zum ersten Mal mit harshen Vocals und der gelungenen, gesanglichen Unterstützung der südafrikanisch-schwedischen Sängerin Heike Langhans (Ex-Draconian) aufwartet.
Flöten, Violinen und Dudelsäcke bereichern Songs wie den hymnisch-bombastischen `Herdchant´ und das pfeilschnelle `To The North´ und beim grandiosen `Covenant´ übernehmen die Sackpfeifen dann komplett das Kommando.
Weitere Highlights folgen mit dem weiteren veritablen Ohrwurm `Red Mist´ und dem treibend-rhythmischen `Incantations´. Manche Songs haben gar Stadiontauglichkeit und erzeugen das Gefühl, dass hier ein schlafender Folk Metal Riese schlummert, der auf die großen Bühnen muss.
Das melancholisch eingeleitete `An Autumn Reverie´ entwickelt sich zum harten, schnellen Banger, bevor das solide, eher unspektakuläre `The Repentant` eine ansonsten jedoch eigenständige, abwechslungsreiche und enorm unterhaltsame Scheibe abschließt.
Michael Gaspar vergibt 8,5 von 10 Punkten