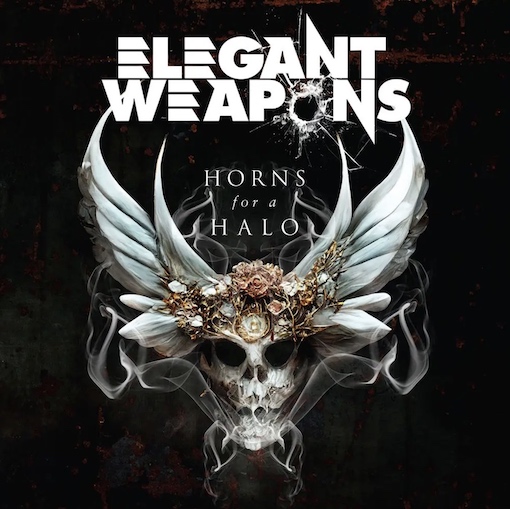 ELEGANT WEAPONS
Titel: HORNS FOR A HALO
Label: NUCLEAR BLAST RECORDS
Spieldauer: 52:59 Minuten
VÖ: 26. Mai 2023
Im Hardrockbereich hat der diesjährige Mai so einiges zu bieten, darunter auch den Output der US-amerikanischen Supergroup ELEGANT WEAPONS. Initiator, Geburtshelfer und Mastermind des Quartetts ist niemand Geringerer als Judas Priest Gitarrist Richie Faulkner.
Bei seinem Unterfangen, die Tradition von Sabbath und Dio mit Bands wie Rainbow, Pantera und Priest zu verknüpfen sowie das Vermächtnis des Proto Metal und der Titanen der 70er und 80er hochzuhalten, steht im ein hochkarätiges Lineup zur Seite.
Der chilenische Gesangsshootingstar Ronnie Romero (Rainbow, Vandenberg, MSG) begleitet von Basser Dave Rimmer (Uriah Heep) und Accept Drummer Christopher Williams. Für die brillante Produktion mit dem gewissen klassisch-traditionellen und doch zeitgemäßen Sound sorgt an den Reglern Andy Sneap (Priest, Opeth, Megadeth, Saxon, Accept, etc.).
Sowohl der Bandname als auch der Albumtitel offenbaren ein Faible für auf den ersten Blick widersprüchliche Wortspiele. Welcher Heilige hier etwas Böses im Schilde führt bleibt ein Geheimnis, aber die namensgebenden "eleganten Waffen" sind nach Aussage der Musiker ihre Instrumente, Stimmen und Emotionen, welche sie kombinieren und uns offenbaren.
Den Stil seiner Truppe beschreibt Faulkner treffend als "mix of JIMI HENDRIX, PRIEST, SABBATH, solo OZZY and BLACK LABEL SOCIETY, but with a lot of melody, sort of old school and modern at once".
Die zehn Tracks bieten gradlinigen, energetisch-dynamischen Rock mit Romero´s variablen, aber nie so wirklich authentischen und eigenständigen Vocals und den genannten Referenzen und 70s/80s Vibes.
Lohnende Anspieltipps sind definitv die beiden Vorabauskopplungen `Do Or Die´ und das grandiose `Blind Leading The Blind´. Außerdem stechen die rauchig-bluesige Ballade `Ghost Of You´, das eingängige, gelungene UFO-Cover `Lights Out´, der großartige Titeltrack und der flotte Rocker `Dirty Pig´ heraus.
ELEGANT WEAPONS präsentieren ein solides, zeitloses und zugleich modernes Rockalbum mit einigen Highlights, ohne mich jedoch aus den Schuhen zu befördern oder das Hardrock/Proto Metal Rad neu zu erfinden.
Michael Gaspar vergibt 7,5 von 10 Punkten