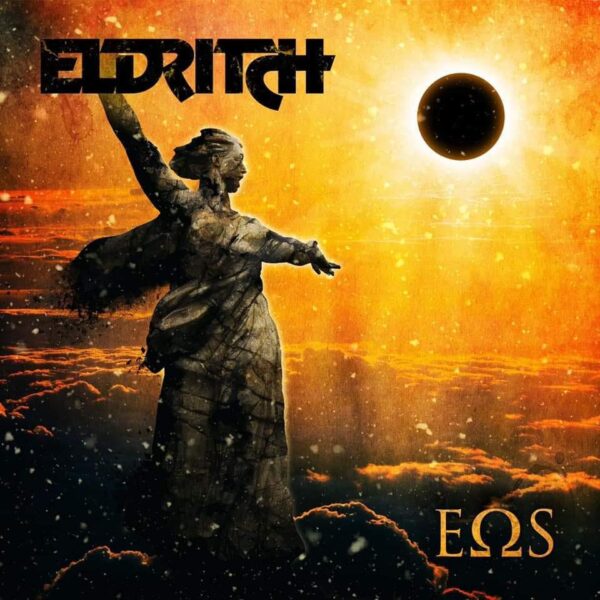 Spieldauer: 67:49 Minuten
"EOS" ist bereits das zwölfte Studioalbum der italienischen Prog-Metal-Meister ELDRITCH. Das Sixpack begrüßt Keyboarder Oleg Smirnoff zurück an Bord und präsentiert einen einzigartigen Mix aus progressiven Elementen und modernen Metalsounds, Genesis meets aggressives schwedisches Riffing könnte man sagen.
Hinzu kommen Spurenelemente des AOR, Thrash sowie der elektronischen Musik und Frontmann Terence Holler liefert zudem eine herausragende Gesangsleistung ab. Nach dem kurzen Intro 'Dead Blossom' bietet 'Failure Of Faith' schnellen Power Metal mit vielen progressiven Anteilen, bevor 'The Cry Of A Nation' ein harter Kracher mit Ohrwurmrefrain und langem Solo ist.
Die Vorabsingle 'Circles' ist ein ebenso harter, treibender, aber auch eingängiger und gelungener Song. Danach folgt mit dem Elfminüter 'Sunken Dreams' das Glanzstück und Aushängeschild der Platte mit viel Prog, Technik und Dynamik.
Die weiteren Songs tendieren entweder mehr in die proggige, harte Richtung oder die pfeilschnelle Power Metal-Schiene, wo aber auch immer wieder technisch Anspruchsvolles, Pianoparts sowie das ein oder andere irrwitzige Keyboard- und/oder Gitarrensolo ihren Platz finden.
Zu erwähnen sind definitiv noch das grandiose 'The Awful Closure' mit hartem Riffing, fantastischen Vocals inklusive einigen eingestreuten, düsteren Growls und Hammerchorus sowie das abschließende, ein wenig überraschende 'Runaway', welches lupenreinen, eingängigen AOR mit Mitsingrefrain darstellt und eine hochklassige, abwechslungsreiche und technisch hochwertige Scheibe bestmöglich abschließt.
Michael Gaspar vergibt 8,5 von 10 Punkten