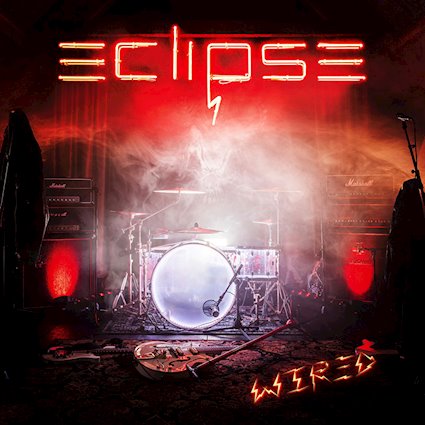 Spieldauer: 43:13 Minuten
Das schwedische Melodic Metal/Hard Rock Quartett ECLIPSE lässt dem erfolgreichen Vorgänger "Paradigm" mit "Wired" nun bereits die neunte Scheibe seit der Bandgründung 1999 folgen.
Der energetische Vierer macht fröhlichen, eingängigen, melodischen Hard Rock, der eine positive Grundstimmung versprüht. Dabei produzieren sie packende Melodien, treffende Hooks und geniale Refrains gleich haufenweise und reihen einen einnehmenden Song und einen großartigen Chorus an den anderen.
Es werden echte Hard Rock-Hymnen wie der grandiose Opener 'Roses On Your Grave' oder das vorab ausgekoppelte 'Twilight', wo direkt auch noch Beethoven`s Neunte verwurstet wurde, angeboten. Aber auch Songs wie die etwas härteren, kantigeren 'Dying Breed' und 'Bite The Bullet', die eher in die Melodic/Heavy Metal-Richtung gehen, können sich hören lassen und bleiben im Gedächtnis.
Weitere Tracks wie das ebenfalls als Vorabsingle dienende 'Saturday Night (Halleluja)' und der stampfende Kracher 'We Didn't Come To Lose' laden von der ersten Sekunde zum Mitklatschen und kultivierten Mitgrölen ein und sind ebenfalls ernstzunehmende Anspieltipps von meiner Seite.
Fazit: hochklassiger Silberling mit zwei Händen voll zwingender Songs ohne Durchhänger für Hardrockfans von Europe bis Bon Jovi und von Aerosmith bis zu den Scorpions.
Michael Gaspar vergibt 8,5 von 10 Punkten