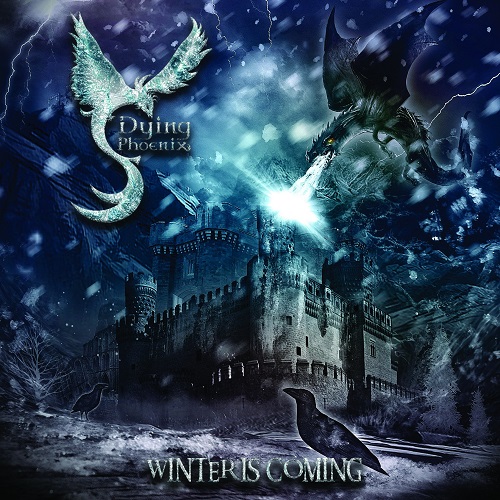 DYING PHOENIX
Titel: WINTER IS COMING
Label: EL PUERTO RECORDS/EDEL-KNM
Spieldauer: 45:46 Minuten
VÖ: 26. Mai 2023
Die Berliner Symphonic Metaller DYING PHOENIX haben ihr Debüt "Winter Is Coming" – wie bereits der Titel bereits vermuten lässt – der mega-erfolgreichen HBO-Serie "Game Of Thrones" gewidmet bzw. den Ereignissen und Personen aus der Romanvorlage "The Song Of Ice And Fire" des US-amerikanischen Autors George R.R. Martin.
Jedem bleibt das Thema seiner Musik selbst überlassen, aber doch muss man feststellen, dass der deutsche Sechser damit doch recht spät dran und der große Hype bereits vorüber ist. Warten die Fans doch derzeit vor allem sehnsüchtig auf die Fertigstellung des sechsten Romans "The Winds of Winter" und auch der Serien-Ableger "House Of The Dragon" wird bald bereits in die zweite von vier geplanten Staffeln gehen.
Schwerer wiegt jedoch, dass es musikalisch meist bei guten Ansätzen und einigen gelungenen Tracks bleibt. Einerseits fehlt der Bombast, andererseits die Leichtigkeit, so will sich auch fast nie ein richtiger Wow-Effekt und nennenswerter Wiedererkennungswert einstellen.
Dabei sind die Voraussetzungen eigentlich mehr als gut, denn mit ihrer Besetzung aus drei verschiedenen Stimmen nehmen DYING PHOENIX eine gewisse Sonderstellung in ihrem Genre ein. Die Sopranistin Erica Bianca und die Ausnahmestimme von Moran Magal bilden gemeinsam mit dem Tenor von Frontmann Pat St. James, der gemeinsam mit Kamelot Keyboarder Oliver Palotai auch das Album geschrieben hat, das stimmliche Triumvirat, dessen Potential nur leider viel zu selten ausgenutzt wird.
Zwischen den instrumentalen In-/Outros `Valar Morghulis´ (All Men Must Die) und `Valar Dohaeris´ (All Men Must Serve) tummeln sich neun Tracks zwischen solide, gefällig, weitgehend langweilig und irgendwie erzwungen oder wahllos und teilweise hektisch vor allem durch den hastigen Wechselgesang.
Ganz gut wissen dagegen die Vorabsingle `Who Owns The North´ und das abwechslungsreiche `Saturnine Days´ zu gefallen. Und ansonsten sind es vor allem die "simplen", kurzen, schnelleren, etwas härteren Stücke wie `Mother Of Dragons´, das folgende `All Men Must Die´ und `All For The Throne´, die mal für zustimmendes Kopfnicken sorgen.
In Verbindung mit dem Gefühl, dass auch nicht jede gesungene Note hundertprozentig dort sitzt, wo sie hingehört, trotz der genannten Lichtblicke auf Albumlänge deutlich zu wenig für einen wirklich guten, stimmigen Gesamteindruck.
Michael Gaspar vergibt 6 von 10 Punkten