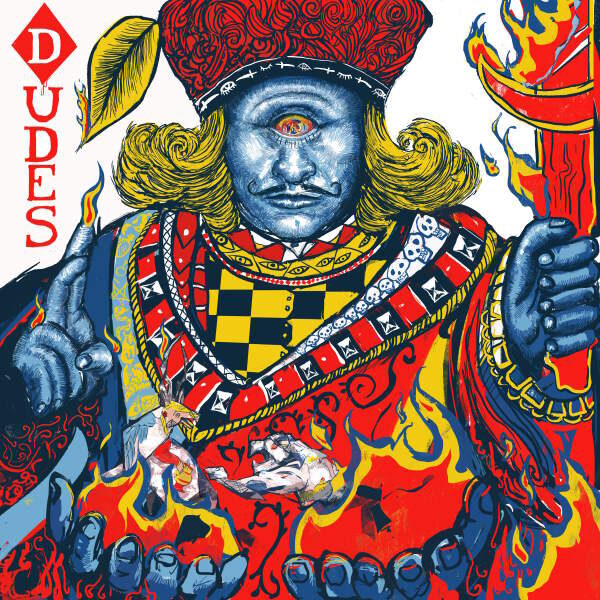 DUDES
Titel: ETERNAL IS THE FRUIT
Spieldauer: 26:02 Minuten
VÖ: 13. Januar 2023
Eingängigen Rotzrock mit Punk-Attitüde knallen uns die DUDES aus Oslo mit ihrer neuen Scheibe "Eternal Is The Fruit" um die Ohren. Acht Songs um die drei Minuten plus ein kurzes Spoken Word Intermezzo. Keine Ahnung, ob man "Eternal Is The Fruit" jetzt als vollständiges Album oder etwas längere EP sehen soll. Fakt ist: Die fünf Norweger halten sich gar nicht erst großartig damit auf, irgendwelche Gefangenen zu machen.
Stilistisch orientieren sich die DUDES klar an den unbeschwerten Frühwerken ihrer skandinavischen Kollegen wie Turbonegro, Gluecifer oder den Hellacopters. Sprich: Effektiver wie abwechslungsreicher Drei-Akkorde-Rotzrock, der meist mit typischen "Gangshout-Refrains" unverblümt auf die Zwölf geht. Songs wie der Opener '241', 'Horns Out', 'Seven Seagulls' und der Quasi-Titelsong 'Crimson Nectar' hätten ohne Weiteres auch auf den Turbonegro-Klassikern "Apocalypse Dudes" und "Scandinavian Leather" eine gute Figur abgegeben. Sehr stark.
OK, musikalisch sind die DUDES vielleicht nicht besonders orginell – aber sie machen tierisch Spaß. Da die vergleichbaren Glanztaten der genannten Bands mittlerweile alle über 20 Jahre zurückliegen, bekommt "Eternal Is The Fruit" für den abgezogenen Originalitätspunkt postwendend einen Nostalgie-Punkt zurück.
Joe Nollek vergibt 8 von 10 Punkten