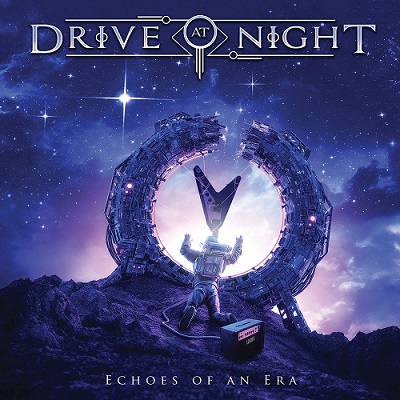 DRIVE AT NIGHT
Titel: ECHOES OF AN ERA
Spieldauer: 45:41 Minuten
VÖ: 17. Juni 2022
Die 80er sind aber mal sowas von zurück! Jedenfalls, wenn es nach den schwedischen Melodic Rockern DRIVE AT NIGHT und ihrem passenderweise "Echoes Of An Era" benannten Debütdreher geht.
Das Duo wurde im vergangenen Jahr von den beiden Freunden und Astral Doors Bandkollegen Joachim Nordlund (Vocals, Gitarre, Keys und Bass) und Johan Lindstedt (Drums) gegründet und widmet sich entgegen dem traditionellen Heavy/Power Metal ihrer Hauptband dem guten alten AOR/Melodic Rock der skandinavischen Schule.
Die zwölf neuen Kompositionen wimmeln daher vor großartigen Melodien, üppigen Keyboardsounds, umwerfenden Singalong-Refrains zum sofortigen Einstieg und machen durchweg großen Spaß.
Neben hymnisch-majestätischen Stücken wie dem kraftvollen `The Youth Of Today´ und dem großartigen Abschluss `United´ stehen Ohrwürmer wie der Opener ´The 80´s Calling´ und das ultra-eingängige Mitsingmonster `One´. Hinzu kommen echte Partykracher wie `Weekend Fun´ (der Titel ist Programm) und `Wild In The Streets´, welches ebenfalls keine Gefangenen macht.
"Echoes Of An Era" bietet über die volle Dreiviertelstunde launige, kurzweilige 80s Hardrock Unterhaltung mit hohem Funfaktor und viel "Choruspower".
Michael Gaspar vergibt 8,5 von 10 Punkten