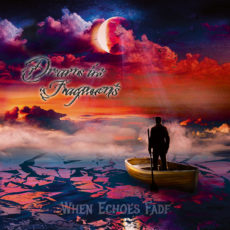 DREAMS IN FRAGMENTS
Titel: WHEN ECHOES FADE
Spieldauer: 53:34 Minuten
DREAMS IN FRAGMENTS sind eine noch relativ junge Band aus der Schweiz, die mit "When Echoes Fade" ihrem Erstling "Reflections Of A Nightmare" (2019) nun ihr Zweitwerk folgen lässt. Leider kann mich ihr Female Fronted Melodic Dark Metal nur bedingt bzw. in Teilen überzeugen. Es kommen viele verschiedene Stil-Elemente zum Einsatz, was zur Folge hat, dass das Ganze manchmal eben auch wie Ausprobieren oder Experimentieren klingt. Es gibt diverse Arten von weiblichen (normal, rockig, opernhaft) und männlichen (clean, aggressiv, Growls) Vocals, üppige Orchestrierungen, symphonische Parts, jede Menge Synthies, viele Piano- und Orgelklänge, aber auch schlichte, geradlinige Tracks.
Zu viele Teile und Melodien sind einfach mehr oder weniger belanglos und nicht durchschlagskräftig genug. Vor allem fehlt es aber an zündenden Refrains, so dass die treibenden Tracks oft im kompositorischen Nirvana verpuffen und irgendwie durcheinander und gehetzt wirken, beispielsweise Teile von 'The Mind's Abyss' oder 'She's The Fall'.
'Hey You' ist ein gelungener, straighter Opener ohne Spielereien und mit schöner Melodie und eingängigem Refrain. Auch 'Nightmare' und 'Rage And Fire', bei denen auch die dunklen, bösen männlichen Vocals Anwendung finden, sind Tracks mit sehr guten Ansätzen. Die beiden besten Kompositionen sind in meinen Ohren jedoch 'By The Sea Forever' mit seinem Hammer-Chorus und weiblichem Operngesang und 'Show Girl' mit seinen mehrstimmigen Vocals. In beiden Fällen verleiden mir die schwachen männlichen Clean-Vocals allerdings den Hörgenuss und zaubern mir jedes Mal ein Grinsen aufs Gesicht, was in diesem Fall jedoch nichts Positives darstellt.
Aber es gibt auch weitere Lichtblicke. 'The Avalon' ist einer der wenigen treibenden Songs, die auch ohne zwingenden Chorus richtig gut funktionieren und auch das hymnische 'We Shout Again' mit seinen üppigen Chören weiß zu gefallen. 'The Queen's Crown' ist ein weiterer "Hit", der ähnlich wie der Opener über alle nötigen Trademarks verfügt und auch ohne großen Firlefanz richtig Spaß macht. Mit dem poppigen, extrem elektronischen 'Own The Night' kann ich auch nicht wirklich etwas abgewinnen, sondern bleibe eher bei den im positiven Sinne simplen, schnörkellosen Tracks als meine Favoriten.
Michael Gaspar vergibt 6 von 10 Punkten