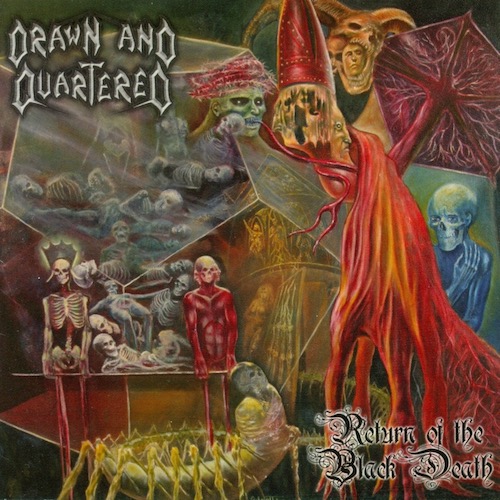 DRAWN AND QUARTERED
Titel: RETURN OF THE BLACK DEATH
Spieldauer: 39:40 Minuten
VÖ: 13. Oktober 2023
Es handelt sich bei dieser Veröffentlichung nicht um eine neue Platte der Death Metal Band DRAWN AND QUARTERED, sonst um ein Reissue des dritten Albums "Return of the Black Death" aus dem Jahr 2004. Aktiv ist man unter dem Bandnamen seit 1994, die Wurzeln der Band reichen allerdings bis ins Jahr 1992 zurück. Das Reissue wird im Oktober auf CD erscheinen.
Nun, was haben uns DRAWN AND QUARTERED denn nun kredenzt? Die Antwort ist gleichwohl simpel wie auch komplex. Rohen, viehischen, amerikanischen Death Metal. Wer sich orientieren möchte, sollte sich Werke wie Onward to Golgotha, Dawn of Possession oder auch Altars of Madness ins Gedächtnis rufen. Klangtechnisch sind DRAWN AND QUARTERED etwas übersteuerter und damit dreckiger unterwegs, was das ein oder andere Detail verschwimmen lässt. Dennoch sind hier keine Anfänger oder Stümper unterwegs. Der Seattle Vierer hat hier alles im Blick und verschafft dem Hörer ein rohes und unverfälschtes Klangerlebnis, zu dem Speed, Düsternis und technische Versiertheit perfekt zusammengeschmolzen werden. Sagte ich perfekt? Ja, und trotz dessen, dass bis ins Jahr 2004 schon sehr viel zu Speed, Doom und Schwärze in der Extreme Metal Szene veröffentlicht war, kommt mir diese Platte so unglaublich eigenständig und schlüssig vor, dass ich mich schon fast ärgere, diese Untergrundperle nicht schon längst auf Vinyl zu haben.
Somit bleibt mir hier ein Chapeau! zu diesem Kracher auszusprechen. Eine Wiederveröffentlichung dieses kleinen Meisterwerks ist absolut gerechtfertigt. Und ein Blick in den Backkatalog der Truppe für jeden Underground Maniac dringend angeraten.
Ingo Holzhäuser vergibt 9 von 10 Punkten