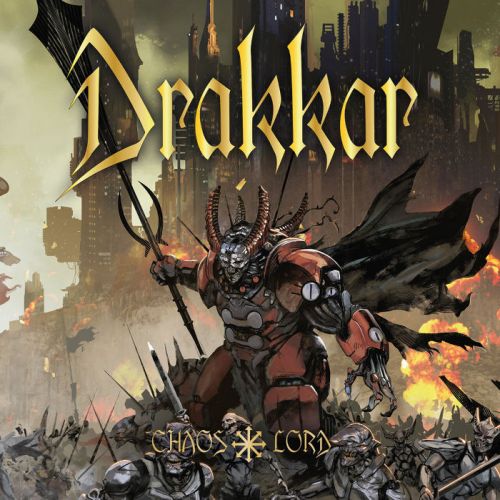 DRAKKAR
Titel: CHAOS LORD
Spieldauer: 50:28 Minuten
Auch wenn das Cover und die Songtitel der italienischen Kapelle DRAKKAR zunächst recht martialisch aussehen respektive klingen, trifft dies das Ganze nicht im musikalischen Kern.
Vielmehr zocken die Jungs aus Mailand lupenreinen Power Metal, der zwar nicht in den typischen, kitschigen Italo Metal der späten achtziger/frühen neunziger Jahre ab driftet, aber doch weit entfernt ist von einem durch die Songtitel avisierten Epic Metal. Dennoch muss ich den fünf Jungs zu gestehen, dass ihr europäischer Power Metal nicht viel schlechter intoniert wird, als der so manch anderer hochgejubelter Truppe des Genres.
Und mit dem Power Triple 'Through The Horsehead Nebula', einem an moderne Maiden erinnernden Track, dem hymnischen Mid Tempo Banger 'The Battle (Death From The Depths – PartII)' – fordert den Titel mal angetrunken im Konzert…- und dem leicht folkigen, hymnischen 'And He Will Rise Again' haben DRAKKAR drei heisse Eisen im Feuer, bei dem man in diesem Zusammenhang auch den hymnischen Abschlußtrack 'True To The End' nennen kann.
"Chaos Lord" bietet zwar keine riesigen Überraschungen, bedient aber den Genre Fan mit so ziemlich allem, was er braucht.
Ludwig Lücker vergibt 7 von 10 Punkten