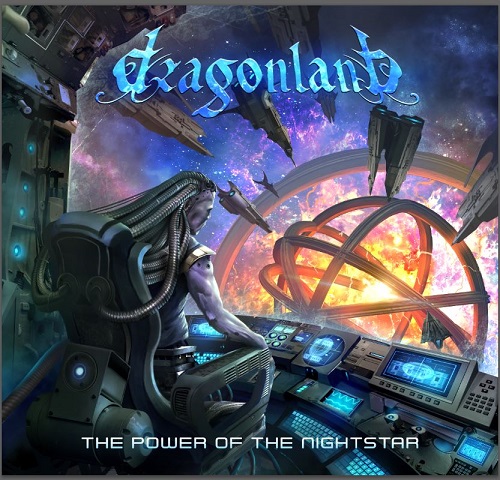 DRAGONLAND
Titel: THE POWER OF THE NIGHTSTAR
Spieldauer: 66:25 Minuten
VÖ: 14. Oktober 2022
"The Power Of The Nightstar" erscheint mehr als zehn Jahre nach seinem direkten Vorgänger "Under The Grey Banner". So lange haben sich die schwedischen Melodic Power Metaller DRAGONLAND mit ihrem neuesten, sechsten Output also Zeit gelassen.
Doch das Warten hat sich gelohnt, denn das zwölf Songs starke Opus weiß durchaus zu überzeugen. Der dynamische Sixpack nimmt Tempo, Dynamik und Eingängkeit seines packenden Melodic Power Sounds als Grundlage und mischt, kombiniert und verfeinert diesen mit einem cineastischen Ansatz, elektronischen Passagen sowie symphonischen und progressiven Elementen.
Das gute Songwriting führt zu teilweise langen, komplexen Stücken mit mitreißenden Melodien, hymnischen Chören und breitesten Keyboardteppichen. Dabei werden die Musik und die Sci-Fi Story des Konzeptalbums eng miteinander verzahnt und auch wenn nicht alle Tracks direkt im Gedächtnis bleiben, kann man den stimmigen Sound genießen und hört gerne wieder und wieder zu.
Dem geneigten Power Metal Fan seien vor allem das pfeilschnelle `Flight From Destruction´ mit seinem Mörderchorus, der packende Space Rocker `Celestial Squadron´ und der epische Titelsong ans Herz gelegt.
`A Threat Beyond The Shadows´ erinnert zu Beginn ein wenig an die Gummibärenbande, wächst sich dann aber zum hymnischen, progressiven Kracher aus, der das gesamte Können der Band abruft. Ebenso das düster-kraftvolle Neun-Minuten-Epos `Journey´s End´, in Teilen ein Duett mit Elize Ryd (Amaranthe).
Unter dem Strich bietet die neue Scheibe in weiten Teilen packenden, temporeichen Stoff mit starken Songs und einer perfekten Produktion, dem vielleicht manchmal ein wenig Ecken und Kanten fehlen, den man aber Fans von melodischem Power Metal bedenkenlos empfehlen kann.
Michael Gaspar vergibt 7,5 von 10 Punkten