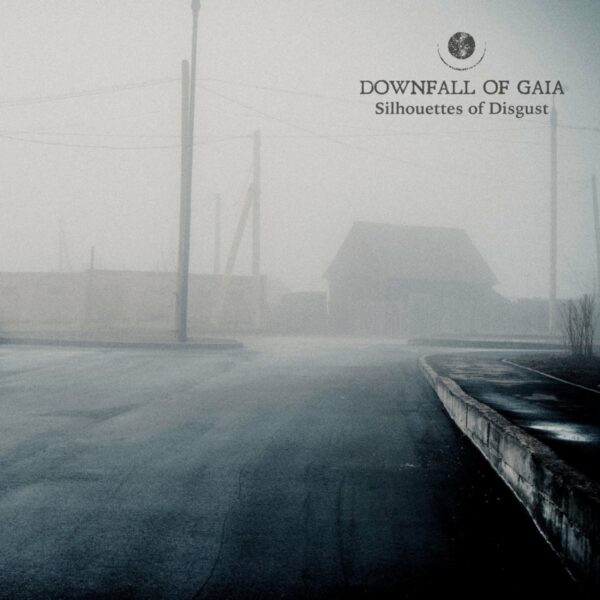 DOWNFALL OF GAIA
Titel: SILHOUETTES OF DISGUST
Label: METAL BLADE RECORDS
Spieldauer: 45:09 Minuten
VÖ: 17. März 2023
Das Musikkombinat DOWNFALL OF GAIA veröffentlicht mit "Silhouettes of Disgust" den sechsten Longplayer. DOWNFALL OF GAIA so einfach ob ihrer klanglichen Vielfalt einzuordnen ist nicht unbedingt einfach. Dennoch sind einige Elemente klar sehr deutlich erkennbar. (Post) Black Metal, Crustcore als auch Elemente des Sludge respektive Doom sind die beherrschenden Einflüsse. 
'Existence of Awe' schafft einen recht polternden und massiven Einstieg ins Album. Stellenweise fühle ich mich an ANCST erinnert allerdings kommen bei DOWNFALL OF GAIA noch sehr viel mehr atmosphärische Aspekte hinzu. Und gerade letztgenannte nehmen sehr viel Raum ein auf "Silhouettes of Disgust". Einige Parts sind richtig gut und gehen nach vorne aber oftmals werden die Tracks in unzähligen Minuten der Atmosphäre einfach zu stark verwässert. Sie verlieren an Kontur, Dichte und Nachvollziehbarkeit. 'Unredeemable' ist hier ein klares Gegenbeispiel und vielleicht der stärkste Track des Albums. 
Insgesamt doch ein durchwachsenes Album von DOWNFALL OF GAIA. Auch wenn die handwerkliche Darbietung der Kompositionen über jeden Zweifel erhaben sind, zerfallen zu oft die Spannungsbögen. Und die Tracks verlieren sich in eher schwachen Arrangements. Wenn auch die beiden letzten Songs einiges wieder aufholen können bleibt die Band doch hinter ihren Möglichkeiten zurück. Für Fans der Band sicherlich eine Pflichtveranstaltung.
Ingo Holzhäuser vergibt 7 von 10 Punkten