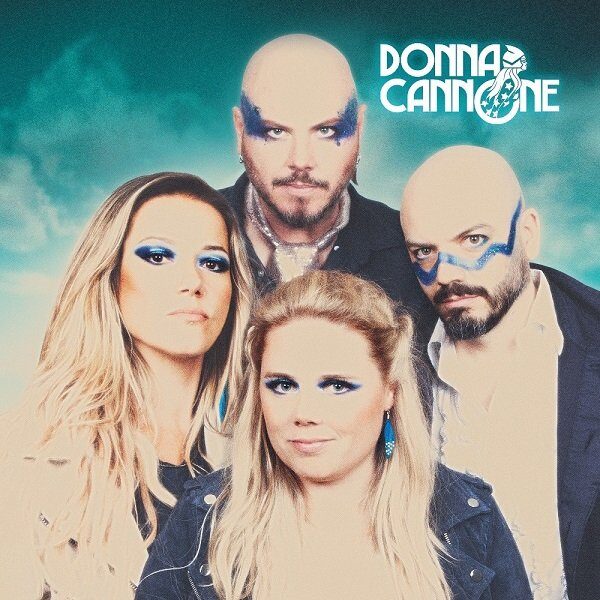 DONNA CANNONE
Titel: DONNA CANNONE
Label: DESPOTZ RECORDS/ROUGH TRADE
Spieldauer: 36:00 Minuten
VÖ: 27. Mai 2022
Donna Wer? So könnte die erste Reaktion auf dieses selbstbetitelte Hardrock-Debüt dieser neuen Combo sein, dabei agieren hier wahrhaft keine Unbekannten. Die ehemalige Thundermother-Gitarristin Giorgia Cateri und der italienische Sänger Luca D'Andria hoben die Band aus der Taufe und holten Giorgia's Ex-Bandkollegin Tilda Stenqvist (Drums) hinzu.
Dazu übernahm kein Geringerer als Björn 'Speed' Strid (Soilwork, The Nightflight Orchestra) die Leadgitarre und machte aus dem Trio ein Quartett. Dieses setzt auf schwungvollen Feelgood-Rock mit leichter, melodischer Punkattitüde und liefert Singalongs, Eingängigkeit und Ohrwurmpotential en masse gleich noch mit.
Davon zeugen zu allererst die beiden Auskopplungen `Cross The Line´ und das großartige `Nothing To Do´ mit seinen weiblichen Gangshouts. Hochklassig geht es mit dem Ohrwurm `Whatever Comes Your Way´ und `Is It True' weiter, einem ruhigeren, aber nicht minder fesselnden Zusammenarbeit mit der ehemaligen Crucified Barbara Sängerin/Gitarristin Mia Karlsson.
Weitere Glanzlichter sind das beinahe nachdenkliche, atmosphärische `Message To Tommorow´ und das melodisch-eingängige `The North´. "Donna Cannone" bietet durchgehend soliden, beschwingten, schnörkellosen Gute-Laune-Rock mit Mitsing- und Wohlfühlgarantie.
Michael Gaspar vergibt 7,5 von 10 Punkten