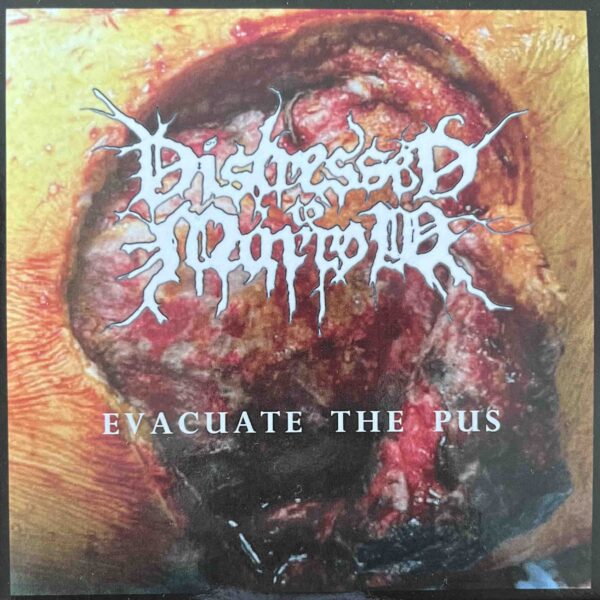 DISTRESSED TO MARROW
Titel: EVACUATE THE PUS DEMO
Spieldauer: 19:27 Minuten
VÖ: 2022
Die Karlsruher Death Metal Band DISTRESSED TO MARROW ist schon seit 2008 aktiv und hat schon diverse Scheiben und Mini-Veröffentlichungen in Eigenregie herausgebracht. Mit dem vorliegenden Demo "Evacuate the Pus" möchte man den nächsten, vielleicht auch schon überfälligen, Karriereschritt in Richtung Plattenvertrag gehen.
Die fünf Tracks des Demos sind ausgewogen im Hinblick auf die Geschwindigkeit und überzeugen vorrangig mit Heavyness und Groove. Handwerklich gibt es hier wenig zu meckern, einige melancholische Leads lockern die Songs auf und geben ihnen Tiefe. Hackbrett kann DISTRESSED TO MARROW auch, aber ich finde, dass sie mir in den Mid-Tempo Passagen bzw. einigen sägenden Doom-Death Parts deutlich mehr zusagen. Da können sie ihre Groovigkeit unter Beweis stellen und schaffen es durchweg glaubwürdig und heavy zu klingen. Wobei 'Young Slot Slavery' ordentlich Tempo macht ohne die Tiefe zu vernachlässigen. Stark! Und der Abschlusstrack 'Crucify the Faithful' ist eine ordentliche Gewaltorgie auch wenn sie instrumental so unschuldig und zahm beginnen will.
Falls jetzt jemand von Labelseite dieser Band eine Perspektive aufzeigen möchte, nur zu! 
Ingo Holzhäuser vergibt 8 von 10 Punkten