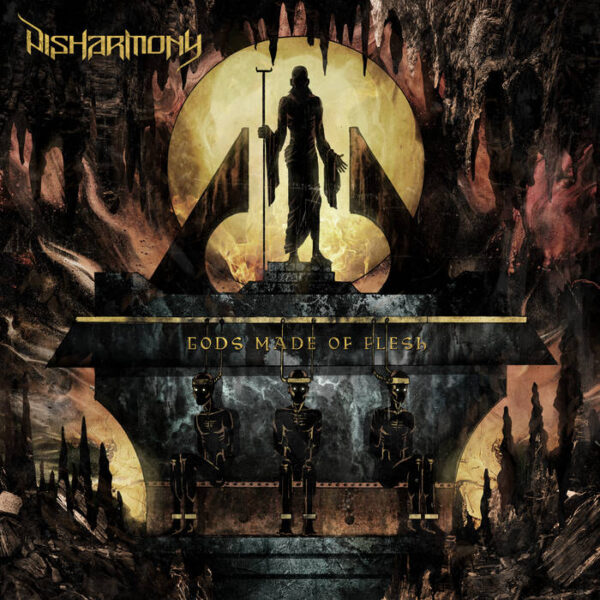 DISHARMONY
Titel: GODS MADE OF FLESH
Spieldauer: 57:28 Minuten
Zwar ist "Gods Made Of Flesh" bereits im April letztes Jahr erschienen, aber das dritte Album von DISHARMONY aus Griechenland ist einfach viel zu gut, um übergangen zu werden. Die Rede ist hier allerdings nicht von den gleichnamigen Black Metallern, die ebenfalls aus Athen stammen. Diese Truppe hier wandelt äußerst stilsicher auf den Spuren von Nevermore. Wer das US-Flagschiff und seinen leider viel zu früh verblichenen Sänger Warrel Dane also vermisst, ist hier an genau der richtigen Adresse.
Dabei versucht Sänger Christos Kounelis keineswegs zwanghaft wie der ehemalige Sanctuary-Frontmann zu klingen, sondern lehnt die Phrasierung seiner Gesangslinien irgendwo zwischen Dane und Alan Tecchio an, ohne jedoch die extrem hohen Schreie einzubauen. In Verbindung mit der Loomis-artigen Gitarrenarbeit der Gitarristen Stefanos und Yannis entsteht dieser Nevermore-mäßige Sound, der einem das Herz höherschlagen lässt.
Dabei schafft es die Band den Spannungsbogen vom schmissigen Opener 'The Cynic And The Beggar' bis zum abschließenden Longtrack 'L.I.F.E.' über fast eine Stunde permanent aufrecht zu halten. Die beiden ruhigen Zwischenspiele 'Dreamers Lost' (mit Gänsehautgesang!) und 'The Shores Of Destiny' dienen lediglich zum Luftholen auf einer schier atemlosen Achterbahnfahrt auf höchstem technischen Niveau, bei der die Atmosphäre jedoch nie zu kurz kommt.
Dieses herausragende Songwriting wird durch den druckvollen Sound hervorragend in Szene gesetzt. Da auch das Coverartwork wirklich ansprechend ausgefallen ist, kann man den Jungs nur zu einem rundum gelungenen Album gratulieren, welches über die Bandcamp-Seite von DISHARMONY zu beziehen ist: Gods Made Of Flesh | Disharmony (bandcamp.com). Anspieltipps: 'Cruel And Bitter', 'Desertion' und der ganze Rest.
Alex Fähnrich vergibt 9 von 10 Punkten