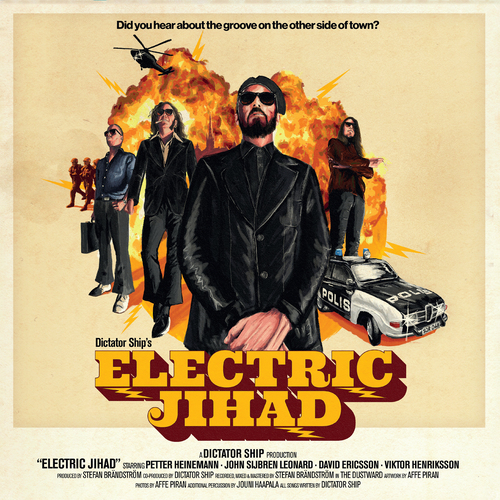 DICTATOR SHIP
Titel: ELECTRIC JIHAD
Spieldauer: 38:43 Minuten
Über den Bandnamen und den Albumtitel darf man heute geteilter Meinung sein. Ich finde beides irgendwie wenig glücklich. Das soll aber nicht vom Inhalt des Zweitlings dieses schwedischen Quartetts ablenken.
DICTATOR SHIP haben sich voll und ganz dem Rock'n'Roll verschrieben. Hier weht mehr als ein Hauch Sechziger aus den Boxen. Das kommt vom leicht fuzzig-schrammeligen Gitarrensound. Vor allem aber die Melodieführung verweist auf Zeiten, ehe viele von uns sich von Zellhaufen zu kleinen Windelkackern entwickelten. Da klingen schon mal Doo-Woop und Soul an. Die gelungenen Chöre geben den Rest. Wenn ich dann das leicht hektische Schlagzeug höre, fällt mir eine starke Referenz ein. Neben vielen anderen, heute wohl kaum noch bekannten Namen, erinnern DICTATOR SHIP immer wieder an The Who.
Und wie The Who zu ihrer Hochzeit stellen die Schweden auch mal Fragen und nehmen Stellung zu heute aktuellen Themen. Dabei klingt dann ein ´Resignation Boogie´ so gar nicht resigniert. Eher ruft er zum Tanzen auf. Und dazu, auch mal aufzustehen und seine Meinung zu sagen. Das ist dann der Punkt, wo Bandname und Albumtitel doch wieder Sinn machen.
Wer sich beeilt, von 500 Vinyl-Alben sind noch einige wenige auf bandcamp zu erwerben.
Mario Wolski vergibt 7,5 von 10 Punkten