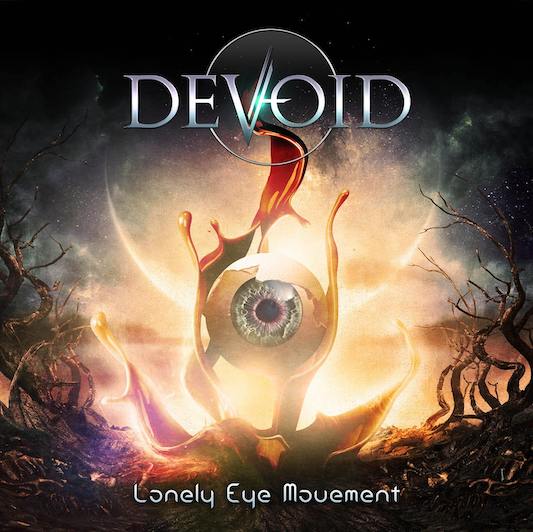 DEVOID
Titel: LONELY EYE MOVEMENT
Spieldauer: 56:03 Minuten
Auch auf ihrem Zweitling "Lonely Eye Movement" liefert die französische Band DEVOID um den außergewöhnlichen Gitarristen Shad Mae und den deutschen Sänger Carsten "Lizard" Schulz Melodic Metal mit einer gesunden Portion Härte und einem unüberhörbaren progressiven Einschlag.
Sie kombinieren technische Finesse und teilweise komplexe Songstrukturen mit schicken Leads der beiden Gitarristen und unvergesslichen Refrains. Die Vorabsingle 'Man Without Fear' demonstriert dies auf beeindruckende Weise und reißt wie auch einige der weiteren Stücke die Fünf- bzw. Sechs-Minuten-Marke.
Aber auch vermeintlich "einfacher gestrickte" Tracks wie der Opener und Titelsong oder das flotte 'Stroboscope Life' stehen dem dynamischen Sixpack sehr gut zu Gesicht. Noch etwas mehr wissen aber die Songs zu gefallen, die sowohl Eingängigkeit als auch Komplexität auf sich zu vereinen wissen. Zum Beweis führe man sich nur mal die Chöre, Melodien und Refrains der beiden absoluten Sahnestücke 'Destination Heaven' und 'Hands Of Salvation' zu Gemüte.
Hervorzuheben sind außerdem noch das grandiose 'Waiting For The Storm' mit seinem Saxofon-Part und seinem irrwitzigen Gitarrensolo und das epische 'Martial Hearts', außerdem ein deutlicher Aspirant für den "Songtitel des Jahres". Das abschließende, ruhige Instrumental 'Wood And Wind' wird dann durchgängig von akustischen Gitarren und eben jenem Saxofon dominiert.
Fabelhafter Silberling, dem es weder an Abwechslung noch an Eigenständigkeit und Qualität mangelt und für Fans harter, technisch anspruchsvoller, melodischer Metalklänge eine absoluter Pflichtkauf!
Michael Gaspar vergibt 9 von 10 Punkten