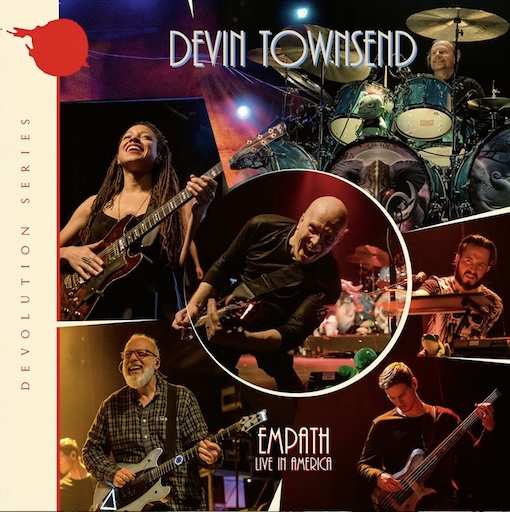 DEVIN TOWNSEND
Titel: DEVOLUTION SERIES #3 EMPATH LIVE IN AMERICA
Label: INSIDEOUTMUSIC (SONY)
Spieldauer: 60:00 Minuten
VÖ: 04. August 2023
Für den 04. August kündigt DEVIN TOWNSEND die dritte Veröffentlichung seiner Devolution-Reihe "Empath Live In America" an.  Die Devolution-Reihe umfasste bisher einige besondere Live-Performances und "Empath Live In America" macht da keine Ausnahme.
Wenn ich auch persönlich kein großer Fan von Live- Alben bin, haben wir hier nun doch wieder ein interessantes Zeitdokument der Tournee, die Anfang 2020 wegen des Ausbruchs der Pandemie abgebrochen wurde. Mit einer abgespeckten Version der "Order of Magnitude"-Band fängt diese Veröffentlichung eine für DEVIN TOWNSEND ungewöhnliche Performance ein.  Wunderkopf Devin sagt dazu:
"(…) Es gab keine Backing-Tracks, Click-Tracks oder gar eine Setlist, so dass jeder Abend einzigartig und anders war. Das Publikum brüllte Bitten und wir machten einfach mit. Das Material wurde daher auf einzigartige Weise interpretiert und das Erlebnis war eine ganz besondere musikalische Nacht (…) Es ist eine rohe und aus dem Gleichgewicht geratene Performance und ich bin begeistert, sie dokumentiert zu haben. "
Damit beschreibt er recht gut nicht nur die Shows sondern auch seinen Musikstil. Er schafft es inzwischen seit über 25 Jahren wie kein anderer Metal, Rock, Prog, Klassik, Ambient und auch mal Pop auf einer Platte zu vereinen ohne das man es ihm wirklich Übel nimmt. (Man diskutiert einfach halt mal gerne.) Dazu fährt er dem Klang und wahrscheinlich auch dem Hang zum Perfektionismus zuliebe eigentlich immer eine Reihe von Gastmusikern auf die alle ihres Gleichen suchen. Die Besetzung für dieses Album besteht neben ihm aus Mike Keneally, Nathan Navarro, Diego Tejeida, Morgan Ågren und Ché Aimee Dorval.
Elf Lieder (plus Intro) in knapp 60 Minuten umfasst das Werk. Zu finden sind die Titel `Evermore`, `Supercrush!`, `March of the Poozers`, `Why?`, `Hyperdrive!`, `Fuck Around Section`, `Ih-Ah!`, `GIGPIG Jam`,  `Forgive Me`, `Love` und `Kingdom`.
DEVIN TOWNSENDS Devolution #3 – "Empath Live In America" wird als limitiertes CD-Digipack, auf Vinyl und als digitales Album erhältlich sein.
Judith Kroll vergibt 8 von 10 Punkten