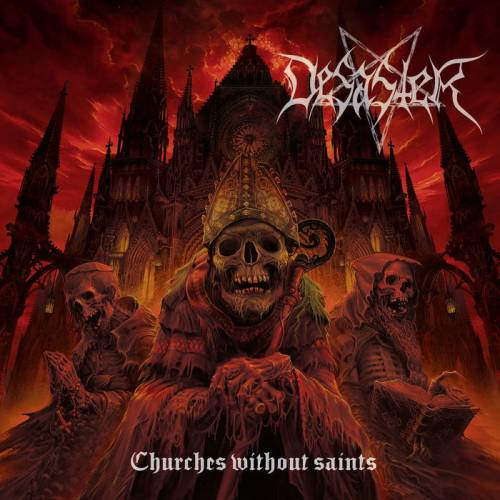 DESASTER
Titel: CHURCHES WITHOUT SAINTS
Spieldauer: 46:05 Minuten
Die Koblenzer Formation DESASTER sind die Macht im Black Thrash in heimischen Gefilden. PUNKT. Und dies beweisen sie auch nach dem Wechsel auf dem Drum Hocker auf ihrem mittlerweile neunten Langeisen.
Auch wenn sie keine professionellen Mucker sind gehen sie ihre Mucke professionell und voller Herzblut an. Und ballern dabei auch auf dem aktuellen Eisen "Churches Without Saints" aus vollen Rohren. Hier zeigt sich nicht das geringste Zeichen von Altersmilde, hier führt Satan persönlich die Axt – zumindest im geistigen Sinne-.
Und das führt dann zu so geilen Tracks wie dem nach einem Intro nach vorne treibenden Black Thrasher  'Learn To Love The Void", welcher auf einem richtig coolen Riff basiert. Auch das speedig beginnende 'Exile Is Imminent', welches nach dem Break mit einem coolen Riff weiter geht und enorm düster und böse wirkt ist ein echter Hammer. Das fette Geprügel namens 'Hellputa' erinnert an alte Zeiten und fordert die Nackenmuskulatur ebenso wie das treibende, bass-betonte 'Armed Architetcs Of Annihilation (In Clarity For Total Death)'. Überraschend episch angelegt und  vom Riffing an Primordial erinnernd ist das treibend, groovige 'Endless Awakening', welches in fettem Geknüppel ausläuft. Lediglich das Outro 'Aus Asche' finde ich persönlich eher deplaziert.
Aber auch das tut einer überaus knackigen Scheibe, die differenziert aber old schoolig aus den Boxen trümmert, keinen Abbruch. Fazit: Wer Black Thrash sagt, der muss auch DESASTER sagen.
Ludwig Lücker vergibt 9 von 10 Punkten