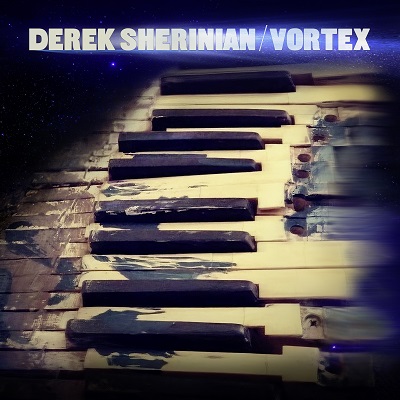 DEREK SHERINIAN
Titel: VORTEX
Spieldauer: 46:46 Minuten
VÖ: 01. Juli 2022
Was machen Gitarristen in der Regel auf ihren Soloalben? Sie toben sich auf ihrer Klampfe mit passenden Mitstreitern instrumental aus oder sie suchen sich einen oder mehrere passende Vokalist:innen aus.
Und wie löst ein Vollblutmusiker und Synthiemeister wie DEREK SHERINIAN, bekannt durch seine Zusammenarbeit mit und/oder (Ex-)Mitgliedschaft bei unter anderem Dream Theater, Black Country Communion, Billy Idol, Whitesnake, Kiss, Sons Of Apollo und Alice Cooper, dieses "Problem"?
Richtig, er lädt einige begnadete Gitarristen zu sich ins Studio ein, um mit ihnen seine instrumentalen Kompositionen einzuspielen und umzusetzen, darunter Steve Stevens (Billy Idol), Joe Bonamassa, Steve Lukather (Toto), Zakk Wylde, Sons Of Apollo Bandkollege Ron "Bumblefoot" Thal sowie die neuen Kollaborationspartner Michael Schenker, Mike Stern und Nuno Bettencourt (Extreme).
Drummer Simon Phillips, wie beim Vorgänger auch als Co-Songwriter und Co-Produzent an Bord, und Bassist Tony 'The Fretless Monster' Franklin vervollständigen das "Vortex" Lineup. Die acht neuen Tracks bieten technisch anspruchsvollen Rock mit mehr oder weniger Funk, Prog und Jazz/Fusion Elementen.
Insbesondere die beiden mit Steve Stevens eingespielten Songs `The Vortex´ und `Seven Seas´ sind mitreißende Rocker mit annehmbarer Härte und das hymnisch-treibende `Fire Horse´ mit Extreme´s Nuno Bettencourt kann sich ebenfalls mehr als hören lassen.
Erwähnenswert sind darüber hinaus der direkt doppelt prominent bestückte `Key Lime Blues´ (Joe Bonamassa, Steve Lukather) sowie der elfminütige, abschließende Longtrack `Aurora Australis´ mit Bandmate Ron Thal, mit dem Sherinian gemeinsam und in Key/Piano/Gitarren-(Solo- und Lead) Duellen großartige Klanglandschaften erzeugt und so die Scheibe großartig beschließt.
Der Protagonist lässt den Kollegen an den Saiteninstrumenten genügend Luft zum Atmen und ausreichend Platz zur musikalischen Entfaltung, so dass gute, organische, packende Stücke ein abwechslungsreiches, teilweise großartiges Album entstehen lassen.
Michael Gaspar vergibt 8 von 10 Punkten