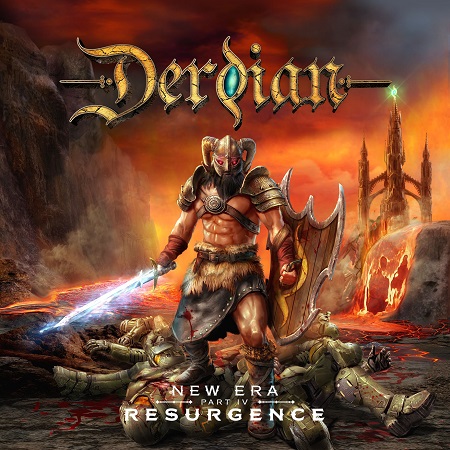 DERDIAN
Titel: NEW ERA PT. 4 – RESURGENCE
Spieldauer: 46:43 Minuten
VÖ: 20. Oktober 2023
DERDIAN sind eine 1998 in Mailand gegründete Symphonic Power Metal Band und ihr Sound eine Fusion aus symphonischen Orchestrierungen, schnellen, kraftvollen Thrash Metal Riffs mit Tempo, Prog Anleihen sowie catchy Melodien und Refrains.
Nach den beiden Demos "Revenge" (2001) und "Incitement" (2003) wurde 2006 das Debütalbum "New Era pt.1″ veröffentlicht, dem die zwei weiteren Teile "New Era pt.2- War of the Gods" und "New Era pt.3- The Apocalypse" folgten.
2013 trennte sich die Band von Sänger Joe Caggianelli und arbeitete mit dem italiemnischen Youtuber Ivan Giannini zusammen, so dass die folgenden Alben eine neue Stimme und einen härteren, thrashigen Sound offenbarten.
Die Corona-Zwangspause wurde genutzt, um an dem ambitionierten Projekt zu arbeiten, die mit den ersten drei Platten erschaffene Saga mit dem neuen Silberling "New Era pt.4 – Resurgence" fortzusetzen. DERDIAN gehen also zurück zu den Wurzeln und präsentieren erfreulich gitarrenlastigen Power Metal mit Dynamik, mal mehr mal weniger Synthies, einer Prise Prog Einschlag und gepflegtem Bombast.
Starkes, vielseitiges Songwriting, eine perfekte Produktion mit ordentlich Wucht, beeindruckende Instrumentalarbeit, songdienliche Orchestrierungen und ein hervorragender Sänger – das sind die Elemente, welche die "Wiedergeburt" zu einem sehr guten Album machen.
Schnelle, melodische Stampfer wie der Opener `The Grin of Revenge´, `Face To Face´, `Dorian´ oder die Bandhymne `Derdian´ brettern melodisch und eingängig drauflos und erinnern an selige Rhapsody Tage.
Dem gegenüber stehen deutlich komplexere, komplett unvorhersehbare Stücke wie `The Evil Messiah´ und `The Black Typhoon´ mit Intros, packenden Melodien und Soli, Tempowechseln, Dramatik, unkonventionellen Songstrukturen, eingestreuten harshen Vocals, Doublebass-Ein- und Ausbrüchen, Klavierintermezzi, etc.
Hinzu kommt mit `All Is Lost´ die gefühlvolle (Power)Ballade des Albums mit sanftem Beginn mit akustischen Gitarren- und Keyboardklängen und fesselnden Melodien.
Die packende Scheibe bietet variablen Symphonic Power Metal mit manchmal etwas viel Theatralik und wenig Innovation, aber auch viel Dynamik, Abwechslung, Musikalität und Liebe zum Detail.
Michael Gaspar vergibt 8 von 10 Punkten