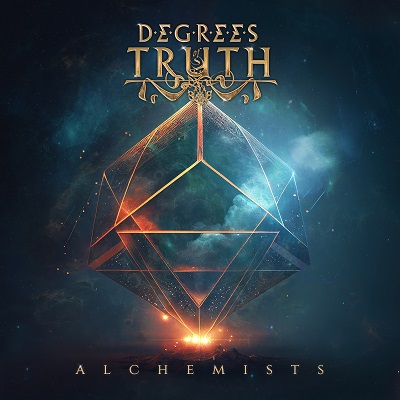 DEGREES OF TRUTH
Titel: ALCHEMISTS
Spieldauer: 46:05 Minuten
VÖ: 23. Juni 2023
Die italienische Band DEGREES OF TRUTH verspricht für ihren dritten Langdreher "Alchemists" moderne Symphonic Metal Magie zwischen Pop, Elektronik und Prog Einflüssen.
Und tatsächlich sind diese Zutaten auch alle vorhanden und man spürt, dass jedes der zehn Stücke ein wenig anders, durchdacht und auf seine Weise besonders ist, wofür der Hörer jedoch den ein oder anderen Durchlauf benötigt.
Mit dem langen, instrumental-orchestralen Auftakt `Imperfect Concoction´ geht es gleich superb los , gefolgt von der ebenso guten `Godless Symphony´, dem abwechlungsreichen `Over the Tide´ und `Flightmare´ mit seinen spannenden Percussions zu Beginn und seinem starken Chorus.
Insgesamt mag das Quintett aus der Lombardei um die neue Sängerin Claudia Beltrame ihren Symphonic Metal nicht allzu bombastisch und verspielt, sondern eher geradlinig und schnörkellos. Oder anderes ausgedrückt, man denkt hier eher an Evanescence oder Frozen Crown (man höre nur das folgende `Wreckage of a Lifetime´) als an Epica oder Nightiwish.
Es schließt sich die eher unspektakuläre Ballade `Misconnection´ an bevor das starke `Tiny Box of Horrors´ vor allem mit seiner intensiven Atmosphäre und seiner treibend-dramatischen Dynamik glänzt.
`Bound to Rise´ beginnt als vergleichsweise simpler Rocker, steigert sich dann und kulminiert in einem verspielten, kombinierten Drum- und Gitarrensolo. Der mitreißende Titelsong, bei dem es dann doch mal episch-cineastisch wird, was dem Fünfer auch sehr gut zu Gesicht steht, bildet schließlich das Ende des soiden Longplayers.
Auch wenn das Ganze, insbesondere der Gesang manchmal ein wenig eintönig gerät und man noch mehr wagen könnte, ist "Alchemists" unter dem Strich ein unterhaltsamer, moderner und vielversprechender Silberling.
Michael Gaspar vergibt 7,5 von 10 Punkten