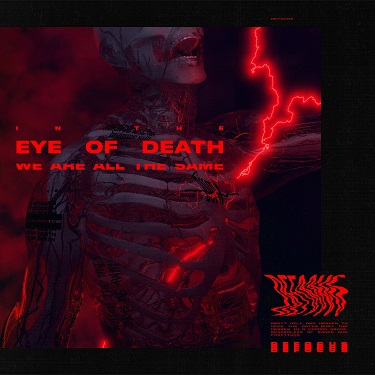 DEFOCUS
Titel: IN THE EYE OF DEATH WE ARE ALL THE SAME
Spieldauer: 32:26 Minuten
Energetischen, rabiaten, aber vor allem äußerst kreativen Metalcore präsentieren Simon Müller (Gesang), Jeffrey Uhlmann (Gitarre), Marcel "Bambam" Heberling (Bass) und Jonas Mahler (Schlagzeug) alias DEFOCUS auf ihrem Erstling "In The Eye Of Death We Are All The Same". Den brachialen Sound aus tief gestimmten Gitarren, treibenden Rhyhmen und dunklen, ambienten Melodien reichert der Vierer aus Aalen am nordöstlichen Rand der Schwäbischen Alb dabei immer wieder mit diversen stilistischen Farbtupfern an.
Mit Krachern wie 'Thought Of A Vision' und 'In Our Hands' beweist der Viererpack, dass Aggression, schweres Riffing und Eingängigkeit sich nicht ausschließen und auch nicht zwingend cleaner Vocals bedürfen. Die angesprochene kompositorische Vielfalt beginnt mit den groovigen Bass-Parts und einem beinahe rap-artigen Teil in 'Immerse Me' und dem kurzen instrumentalen Intermezzo 'Tides'. Weitere unerwartete, kurzweilige Highlights sind die hohen fast gekreitschten, aber dennoch melodischen Vocals im Chorus von 'Diverge', für die Tom Brümmer (Oklahoma Kid) verantwortlich zeichnet und der ruhige, emotionale Mittelteil von 'Can You See Me'.
Ganz im Gegensatz zum folgenden 'Disease' bei dem sowohl in Sachen Härte als auch in Sachen Geschwindigkeit noch eine Schüppe draufgelegt wird und man sich vor dem geistigen Auge durchs Circle Pit pflügen sieht. Textlich entpuppt sich das Ganze als Hymne gegen totalitäre Herrscher und für Menschenrechte. Wie man überhaupt die gesellschaftskritischen, reflektierten Texte hervorheben muss. Die Passage aus 'Common Grave', aus der der Albumtitel entnommen wurde, gibt hier die generelle Marschrichtung vor: ,,Regardless of ranks and positions, in the eye of death we are all the same."
Bleibt noch auf das grandiose, abschließende 'Shelter' einzugehen, dessen komplexer Aufbau mit ruhigem Beginn über aggressiv-eruptive Passagen in einem von weiblichem Klargesang bestrittenen beschwörenden Chorus gipfelt, bevor die beiden Stimmen gemeinsam den emotionalen Track fortsetzen und schließlich beenden. Für mich der stärkste und einprägsamste Song auf einem starken, abwechslungsreichen Debüt-Album mit leider etwas kurzer Spielzeit von knapp über dreißig Minuten.
Michael Gaspar vergibt 7,5 von 10 Punkten