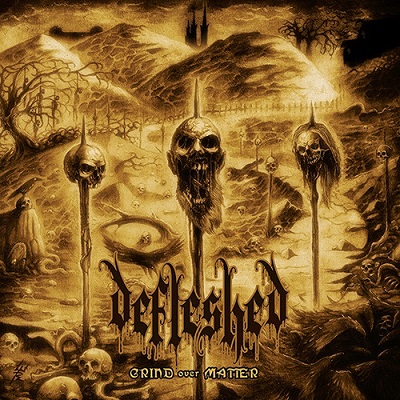 DEFLESHED
Titel: GRIND OVER MATTER
Label: METAL BLADE RECORDS
Spieldauer: 34:17 Minuten
VÖ: 28. Oktober 2022
Das Death/Thrash Metal Abrisskommando DEFLESHED aus Hoppla ähem Uppsala/Schweden meldet sich nach 17 Jahren mit einer neuen Platte zurück. Vor allem die Alben Under the Blade, Fast Forward und Royal Straight Flesh gehören zur Oberklasse des räudigen Bastards aus den Spielarten Death und Thrash Metal. Nach langer Pause ist das Trio mit dem verheißungsvollen Titel "Grind over matter" angetreten.
Und dem Titel bleibt man absolut treu, denn die Devise auf dem Album lautet: Immer hart am Gas!! Wie zu den Hochzeiten des Bandkatalogs bolzen sich die Skandinavier durch ihren brettharten Death/Thrash. Blasts aber auch genug melodiöse Parts, die verdeckt unter der Oberfläche schlummern und immer wieder aktiviert werden, zeichnen den Bandsound nachhaltig aus. DEFLESHED geben gut eins auf die Glocke, hier gibt es keine oder nur sehr wenige Möglichkeiten des Verweilens. Einige Tempiwechsel etwa vom D-Beat zum Blast und wieder zurück lockern die Chose etwas auf. Insgesamt bleiben die Schweden aber auf Speed. Einzig 'Behind Dead Eyes' ist tempomäßig etwas stampfender und zurückhaltender als der Rest der Tracks. Und wer Tracks mit Titeln wie 'Blastbeast' und 'Last Nail in the Coffin' im Programm hat, muss einfach Vollgas geben.
Starke Rückkehr einer Band, die mich angenehm überrascht und nochmal zeigt wo der Hammer hängt und wie er zu schwingen ist. Matte Modin sei Dank bleibt Fast Forward nicht nur ein Albumtitel sondern gleichzeitig auch das Bandmotto!
Ingo Holzhäuser vergibt 8,5 von 10 Punkten