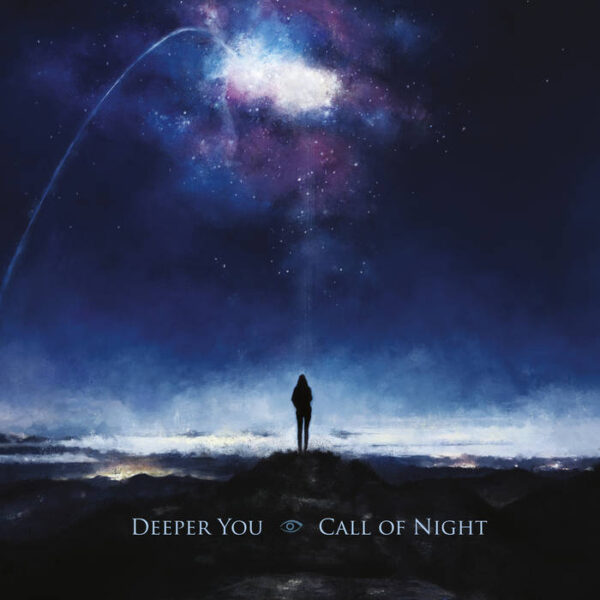 DEEPER YOU
Titel: CALL OF NIGHT
Spieldauer: 43:02 Minuten
Der Fünfer DEEPER YOU aus Niederösterreich steht für eine dunkle, melodische Melange aus Rock, Metal und Pop und präsentiert mit "Call Of Night" sein Debütalbum. Die Band aus Hollabrunn kreiert einen Sound der Gegensätze: "Schwarz mit lichten Momenten. Komplex und doch eingängig. Kraftvoll und doch zerbrechlich."
Scharfes Riffing, eine kraftvolle Rhythmussektion und dramatische Synthies treffen auf die ausdrucksstarken, tiefen Vocals von Frontmann Nick Thal. Aufgrund der melancholischen und düsteren Stimmung und da man auch einige Gothic- und Darkwave-Elemente ausmachen kann, ergibt sich eine Mischung irgendwo zwischen Type O Negative, Unto Others und Depeche Mode.
Zum Start gehen 'Through These Gates' und 'Day One' dann auch tatsächlich in diese Richtung aus: harte Gitarren, ein solides Soundfundament und epische Keyboards treffen auf die eindringlichen, intensiven Vocals des Sängers. Zudem ist DEEPER YOU mit 'Day One' ein veritabler Ohrwurm gelungen, den man so schnell nicht mehr aus dem Kopf bekommt.
Das folgende, grandiose und ultra-eingängige 'Irene' erinnert an einen David Bowie-Song mit harten Gitarren, bevor 'Kings Of Winter' und das grandiose, epische 'She´ll Bleed Again' an eine komplexe, moderne Version von "HIM meets The Cure" denken lassen.
Mit 'Baby Blue' ist DEEPER YOU ein weiterer "Hit" mit schicken Melodien und einem großartigen Chorus gelungen. Das abschließende, ruhige 'Mine Is The Night' fällt da etwas ab, ist aber nicht minder intensiv und emotional als weite Teile dieser eindrucksvollen, ebenso düsteren wie packenden und eingängigen Debütscheibe.
Michael Gaspar vergibt 8 von 10 Punkten