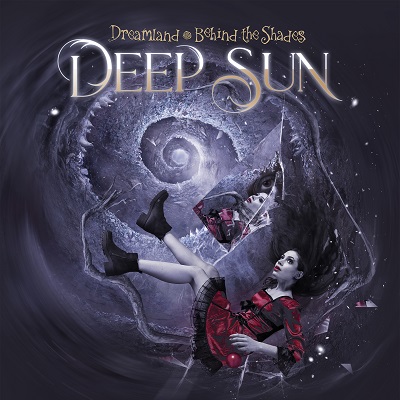 DEEP SUN
Titel: DREAMLAND – BEHIND THE SHADES
Spieldauer: 47:30 Minuten
VÖ: 10. Juni 2022
"Dreamland – Behind The Shades" ist das neue Album der Symphonic Metaller DEEP SUN aus der Schweiz. Nach einer EP und zwei Longplayern handelt es sich um die dritte Full-Length-Rille der Eidgenossen.
Lyrisch und musikalisch drücken die elf Songs die Vielfalt der Träume und Fantasien sowohl im wörtlichen, nächtlichen als auch im übertragenen, symbolischen Sinn als Hoffnungen, Zielsetzungen und Fokussierungen aus.
Während die erste Hälfte der Songs soliden, unspektakulären und wahrlich nicht schlechten Symphonic inklusive der beiden Vorabsingles `Living The Dream´ und `Killer In A Dream´ bietet, der Funke aber nicht so recht überspringen will, ist der zweite Teil ein wenig interessanter und abwechslungsreicher ausgefallen.
Den Anfang machen hier die packende Ballade `In Silence´ und das äußerst dynamische `Secret Garden`, bevor mit `Mitternachtstanz´ ein folkiges, mittelalterliches, tanzbares Stück überrascht. `Hands In Anger´ reißt durch Tempo, Power und Energie sowie die Doublebass und die krassen Growls von Drummer Tobias Brutschi mit.
Und während `Rogue (Dreaming Leprechaun Pt. II)´ einen Rückfall in Ufftata-Karnevals-Stimmungs-Gefilde darstellt, beeindruckt `Euphoria´ abschließend mit wunderbarer Melodie und Hammerchorus.
Sicher, man hätte sich das ein oder andere mehr an Eingängigkeit und Stimmigkeit gewünscht oder angenehmere, zurückhaltendere Vocals oder einige packendere Stücke oder ein bisschen von allem. Aber "Dreamland" ist beileibe kein schlechtes Symphonic Album, mit dem Genrefans gerne mal den Selbstversuch starten dürfen und sollten.
Im Vergleich mit den beiden zeitgleich angehörten, stilistisch ähnlich gelagerten Scheiben, kann es der Longplayer jedoch weder mit der Power, Variabilität und Eingängigkeit von After Forever noch mit der Intensität, Reife und Komplexität von Fortis Ventus aufnehmen.
Michael Gaspar vergibt 6,5 von 10 Punkten