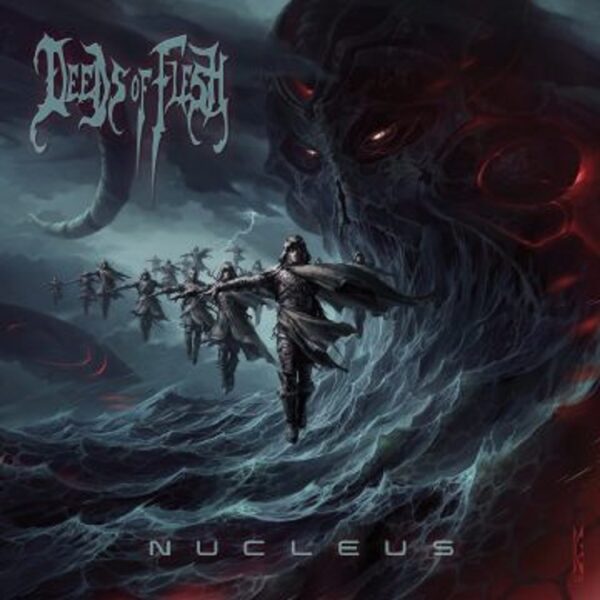 DEEDS OF FLESH
Titel: NUCLEUS
Label: UNIQUE LEADER RECORDS
Spieldauer: 40:34 Minuten
Mit NUCLEUS legt die Brutal Death Metal Institution DEEDS OF FLESH ihr bislang neuntes Full-Length-Album vor. Nach dem Tod von Bandgründer, Gitarrist und Sänger Erik Lindmark in 2018 hätte ich eine solch starke Rückkehr der Kalifornier nicht mehr erwartet. Die Platte ist dem verstorbenen Maestro gewidmet und ein Großteil der Songs entstammen auch noch aus dessen Feder. Das lyrische Science-Fiction Konzept wird auf NUCLEUS fortgeführt wie schon auf den beiden Vorgängeralben. Hackebeil und Blutwurst hat die seit 1993 aktive Truppe schon länger – zumindest textlich – ad acta gelegt. Musikalisch bewegen sich DEEDS OF FLESH in dem Fahrwasser der letzten Platten: brutaler aber überaus technisch anspruchsvoller Death Metal. Teilweise recht vertrackt, aber dennoch nicht selbstverliebt und daher auf den Punkt. Geblastet wird hier vom Allerfeisten und einige Tempiwechsel sind nicht von dieser Welt. DEEDS OF FLESH haben sich hier immer weiter hin zur Musikalität entwickeln, sprich: hier sind echte Könner am Werk mit Blick auf packende Songs. Die transparente und druckvolle Produktion tut ihr übriges und steigert das durchaus komplexe Hörvergnügen nochmals. Einzelne Songs oder Passagen herauszupicken lohnt daher nicht, die ganze Scheibe ist eine Wucht.
Da mit Lindmark auch der angestammte Sänger entfallen ist, sammeln sich hier einige Gastbeiträge an: George "Corpsegrinder" Fisher (CANNIBAL CORPSE), John Gallagher (DYING FETUS), Matti Way (DISGORGE), Frank Mullen (SUFFOCATION) oder Luc Lemay (GORGUTS) und einige mehr.
Ein würdiges Denkmal für Erik Lindmark haben DEEDS OF FLESH erschaffen. Eine ehrwürdige Hommage an ihren Gründer und musikalischen Kopf. Besser hätte man es kaum machen können. Ich freue mich aufs Vinyl.
R.I.P. Erik Lindmark (09. Juni 1972 – 29. November 2018)
Ingo Holzhäuser vergibt 9 von 10 Punkten