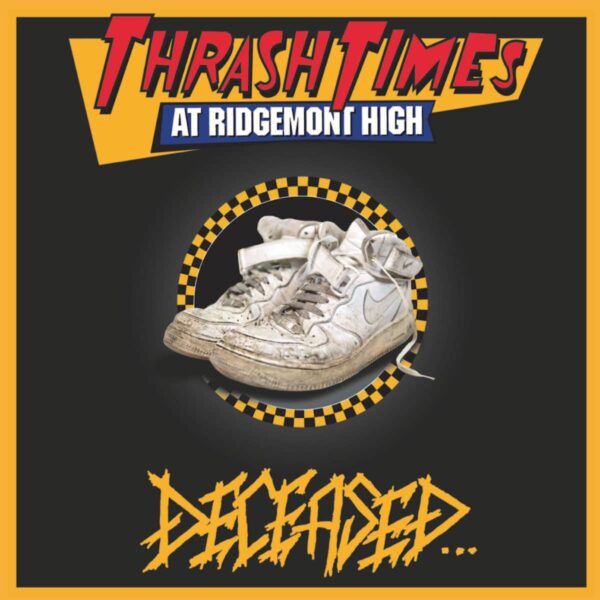 DECEASED
Titel: THRASH TIMES AT RIDGEMONT HIGH
Label: HELLS HEADBANGERS RECORDS
Spieldauer: 44:34 Minuten
Die Death/Thrash Urgesteine DECEASED um Bandkopf King Fowley veröffentlichen mit "Thrash Times at Ridgemont High". Es ist ein vollständiges Coveralbum, ähnlich wie bereits "Zombie Hymns" (2002), "Rotten to the Core" (2004) und "Rotten to the Core Part 2 (The Nightmare Continues)" (2020).
DECEASED widmen sich in verehrender Weise alten Thrash Klassikern der eher zweiten oder dritten Reihe. Das soll jetzt nicht falsch verstanden werden, denn damit ist keinesfalls die Qualität der Bands sondern eher deren kommerzieller Erfolg gemeint. Insofern kommen hier eben auch Bands und Songs zum Zuge, die man in dieser Form sicherlich noch nicht gehört hat. DECEASED schaffen hier eine kurzweilige Retrospektive mit dem notwendigen Respekt und ordentlich Spaß an der Freude.
Die Tracklist:
1. Spit on Your Grave (WHIPLASH)
2. Pray for Death (BLESSED DEATH)
3. Sacrifice (SACRIFICE)
4. Get Stoned (STONE)
5. Into the Universe (ARTILLERY)
6. Take this Torch (RAZOR)
7. Thrashing Rage (VOIVOD)
8. Death Squad (DARKNESS)
9. In the Grip of Evil (CYCLONE)
10. Demons (RIGOR MORTIS)
11. Demon Preacher (DEATHWISH)
12. Illona (The Very Best) (BULLDOZER)
Für Thrasher sicherlich eine interessante Angelegenheit.
Ingo Holzhäuser vergibt keine Bewertung