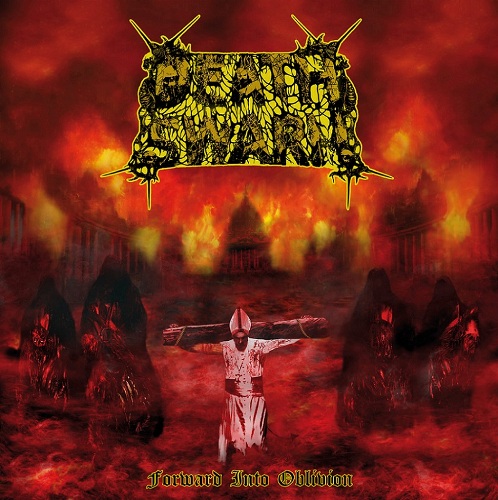 DEATHSWARM
Titel: FORWARD INTO OBLIVION
Spieldauer: 49:30 Minuten
Die Schweden von DEATHSWARM machen ihrem Herkunftsland alle Ehre und ballern uns auf ihrem Zweitwerk "Forward Into Oblivion" klassischen Schwedentod um die Ohren. Das Ganze wird noch mit ner Prise britisches Todesblei a'la Bolt Thrower garniert und fertig ist das schön blutig abgehangene Stück Death Metal.
Das hat schon gut auf ihrem Erstling "Shadowslands Of Darkness" funktioniert. Da drei Fünftel von DEATHSWARM auch schon bei der schwedischen Melodic Death Metal Kapelle Sarcasm tätig sind, merkt man den Jungs instrumental und songtechnisch die nötige Reife auch deutlich an, denn sie verstehen es orentlichen Death Metal zu komponieren. Als Anspieltipps kann ich hier mal exemplarisch 'Unshackle The Jackal', ein trotz allen Speeds hymnischer Track, den Up Tempo Banger 'Army Of The Shadows', ebenfalls mit einem tollen hymnischen Part und das treibende 'Deus Ex Nihilo' empfehlen, die zusammengenommen geradezu als Paradestücke des DEATHSWARM'schen Sounds her halten können.
Die fette aber dennoch jederzeit differenzierte Produktion , die in den Dead Dog Farm Studios ihren letzten Kick erhielt, sorgt zudem für ein feines Gemetzel in den Lauschern. Die Scheibe gibt es in verschiedenen Formen als CD und natürlich Vinyl.
Ludwig Lücker vergibt 8 von 10 Punkten