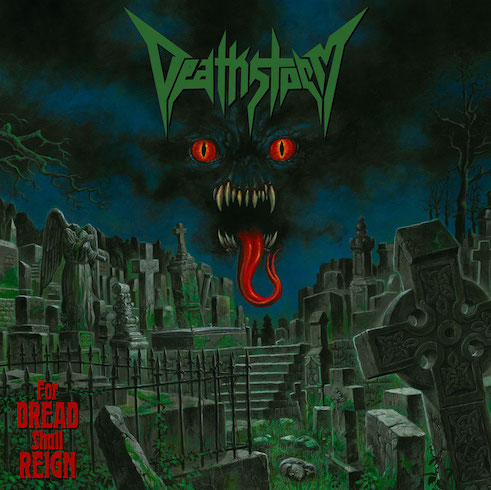 DEATHSTORM –
Titel: FOR DREAD SHALL REIGN
Spieldauer: 38:13 Minuten
Die Österreichischen Thrasher von DEATHSTORM sind auch nach einem Jahrzehnt, mit ihrer vierten CD noch im Underground angesiedelt. Dabei hat das Trio durchaus Potenzial mit ihrem von Kreator, Demolition Hammer und alten Slayer beeinflussten Thrash einer breiteren Masse zu gefallen. Die Richtung ist damit wohl klar: Riffs, Aggro-Shouts und lupenreine, typische alte Thrash-Songstrukturen.
Der Opener 'Unforgotten Wounds' scheppert ordentlich zügig los, muss allerdings ein ziemlich schiefes Solo über sich ergehen lassen. 'Blades Of Delusion' erinnert oft an eine schnelle Version von Metallicas 'For Whom The Bell Tolls'. Alles ist roh und auf totalem Old-School Kurs. Ein Track wie 'Ripping and Tearing' geht schnell und aggressiv los, hat ein paar wirklich coole Riffs, wirkt aber trotzdem zum Teil, wie aus der Zeit gefallen und zündet nicht wirklich. Das Grundproblem von DEATHSTORM ist, dass von ihren neun Songs einfach nicht viel hängen bleibt. Vieles ist vorhersagbar und stumpf: Einiges wirkt wild zusammengezimmert und eben nicht, wie bei den Vorbildern organisch. Dazu kommt, die gebellten Vocals sind zwar irgendwie aggressiv aber insgesamt wenig überzeugend, da sie kaum einen Wiedererkennungswert haben und in Punkto Produktion kommt "FOR DREAD SHALL REIGN" nicht über einen anständigen Demo-Sound hinaus. Ob gewollt oder nicht, sei hier mal dahingestellt.
Für Fans der ganz alten Schule, denen ein 80er Jahre Sound nichts ausmacht, gilt reinhören kann man ja mal, denn zum Teil sind die Sachen nicht übel und den Spirit der späten 80er hört man hier allemal.
Sven Bernhardt vergibt 6,5 von 10 Punkten