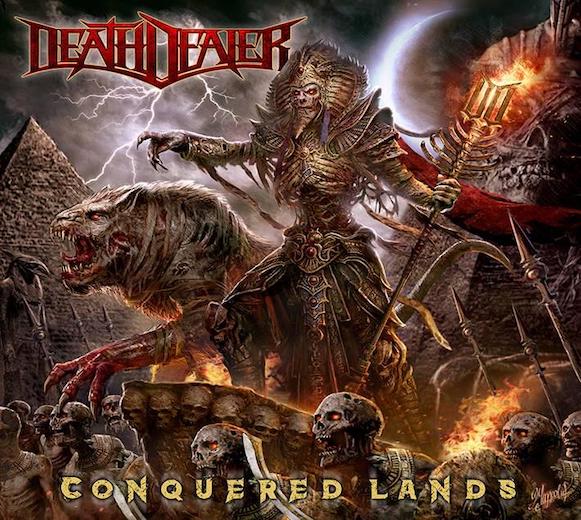 DEATH DEALER
Titel: CONQUERED LANDS
Spieldauer: 46:38 Minuten
Fünf Jahre nach der "Hallowed Ground" Scheibe kommt Ross The Boss  wieder mit seiner zweiten Band DEATH DEALER aus den Puschen, um der Heavy Metal Welt kraftvolle Riffs , Energie und klassische, leicht epische, Metal Tracks um die Ohren zu hauen. Vocalist Sean Peck passt mit seiner Aggressivität, den hohen Screams und erkennbarer Phrasierung tadellos zur traditionellen Musik. Auch Die Mitstreiter, also Drummer Steve Bolognese, der in der Soloband von Ross the Boss spielt und Stu Marshall sind beileibe keine Unbekannten bei dieser "All-star-band".
Wenig überraschend sind die Tracks eine ziemliche old-school Geschichte. Das Album geht zunächst im US-Metal Stil los und so bleibt es im Wesentlichen auch. Die elf Tracks offerieren häufig schnellere Powerchords, mal etwas Düsternis und der Midtempo-Banger darf auf einer solchen Platte genauso wenig fehlen wie die Ballade ('22 Gone'). Ein Song wie 'Hail to the King' oder auch 'The Heretic Has Returned' erinnern nicht nur textlich an die ehemaligen Arbeitgeber Manowar, sondern natürlich auch musikalisch, auch wenn das Pathos Level bei weitem nicht erreicht wird.
Die zeitgemäße Produktion drückt ordentlich, das Gespedal wird häufig genutzt und die notwendigen Klischees werden bedient. Sprich, das Album hat alles, was ein traditioneller Heavy Metal Fan von Ross The Boss erwartet und dennoch bin ich nicht restlos überzeugt. Denn aus irgendeinem Grund zünden die Tracks bei mir nicht, mögen sie zum Teil noch so knallen. Seien es nun die berühmten "Eier-Beisser"-Vocals, die mich zeitweise nerven oder doch die Tatsache, dass die Songs zwar perfekt umgesetzt, die Songideen aber nur "nicht schlecht" sind. Ein neuer Klassiker liegt hier wohl nicht vor mir. Was bleibt ist ein anständiges Album.
Sven Bernhardt vergibt 6,5 von 10 Punkten