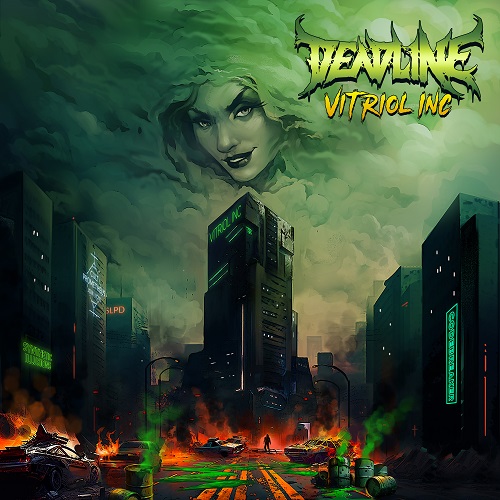 DEADLINE
Titel: VITRIOL INC
Label: INDEPENDENT RELEASE
Spieldauer: 48:01 Minuten
VÖ: 05. Mai 2023
DEADLINE werden gerne als Pioniere der "New Wave of South African Heavy Metal" bezeichnet und melden sich mit ihrem dritten Longplayer "Vitriol Inc" zurück. Die seit 2014 aktive Truppe verbeugt sich vor den Helden der 80er und vermischt Thrash, Power und Heavy Metal mit einem Schuss Sleaze Rock zu einem klassischen, packenden Hybrid.
Die Scheibe ist dynamisch, traditionell und voller Power und Abwechslung. Nach dem kurzen Intro `Si Vis Pacem Para Bellum´ geht es mit der treibend-energetischen Vorabsingle `Vitriol´ in die Vollen, bevor das ebenfalls vorab ausgekoppelte `Cult Of Prometheus´ mit einem kühlen Slayer-Riff, jeder Menge Theatralik und einem eingängigen Chorus punktet.
Schnelle, eingängige Nummern wie `Synthetic Illusions´ und `Codebreaker´ wissen ebenso zu überzeugen wie das emotional-intensive `Ghost Of Kyiv´ und die eindringliche Ballade `Exhale´, immer mit traditionellen Heavy Metal Klängen mit viel Pathos und variablen Vocals.
Als Herzstück der Platte empfinde ich jedoch das sieben Minuten lange `My Sweet Apocalypse´ mit seinem packenden, akustischen Beginn und Ende sowie seinem cineastisch-theatralischen Mittelteil mit einer Prise Gothic Vibes.
Und so geht mit der letzten Vorabauskopplung, dem schnellen, rhythmischen `Monuments´ eine gelungene, kurzweilige Scheibe mit abwechslungsreichen Songs und einer oldschooligen, Livefeeling versprühenden Produktion, die perfekt zum Sound der Band passt, kraft- und schwungvoll zu Ende.
Michael Gaspar vergibt 8 von 10 Punkten