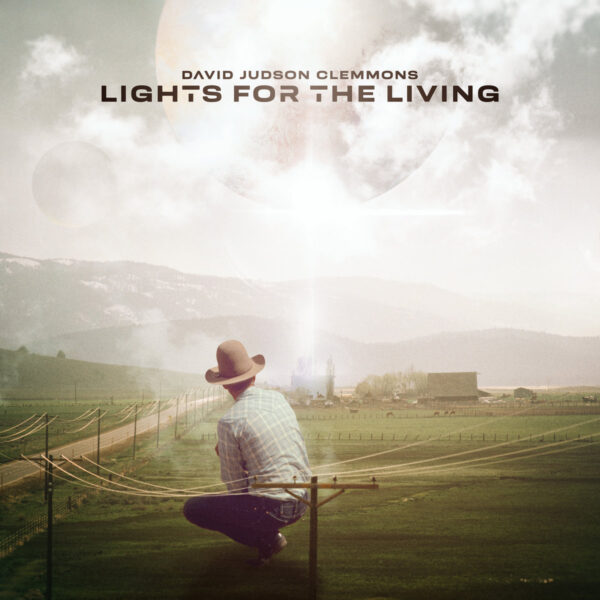 DAVID JUDSON CLEMMONS
Titel: LIGHTS FOR THE LIVING
Spieldauer: 35:42 Minuten
DAVID JUDSON CLEMMONS war einst der Frontmann von Damn The Machine, der genialen Combo um Chris Poland, die nach dessen Zeit bei Megadeth 1993 ein richtig geiles, selbstbetiteltes Album veröffentlicht hatte. Dieses hat David letztes Jahr in seiner Demoversion neu aufgelegt. Gleichzeitig hat er weiter an seinem Soloprojekt gewerkelt und präsentiert die Früchte seiner Arbeit nun mit "Lights For The Living".
Wie schon beim Vorgänger "Tribe & Throne" sind neben dem Sänger/Gitarristen, der wiederum alle Songs geschrieben hat, der Bassist Earl Grey und der Drummer Thomas Götz mit von der Partie. Die sechs Stücke auf "Lights For The Living" muten noch eine Ecke trauriger und gleichzeitig wütender als das alte Material an. Die Pandemie scheint also auch an Dave, der auf Facebook ein sehr netter und jovialer Typ ist, nicht ganz spurlos vorüber gegangen zu sein.
Los geht`s mit 'The Weaking', das mit zarten Akustikklängen beginnt, um dann in einen wütenden Riffer umzuschlagen. Das Daves neuer Heimat gewidmete 'Berlin' ist dagegen fast schon leichtfüßig und wurde wohl auch deshalb vorab als Single veröffentlicht. 'Human Odyssey' geht los mit einem zahmen Basslauf untermalt von Synthies, bevor ähnlich wie beim Opener die Post abgeht.
Lyrisch wird ein düsteres Bild unserer Zeit gezeichnet: "Empire of Violence – Kingdom of Torment – Down here in the old world". Als hätte Dave letztes Jahr sogar den Ukraine Krieg schon vorausgesehen, aber das traf wohl auch vorher bereits zu. All das steht im krassen Gegensatz zur friedlich-idyllischen Landschaft auf dem Cover. 'The More I See' ist der härteste Song auf dem Album und knüpft fast schon an Davids Zeit bei Murdercar oder Ministers Of Anger an.
Es folgt das kurze und knackige 'Death Is A Room', bevor 'Sea Of Ends' dieses abwechslungsreiche Album episch ausklingen lässt. Hier scheinen die leichten Wave-Einflüsse des Vorgängeralbums noch einmal leicht durch, ansonsten ist 'Lights For The Living', wohl auch wegen der raueren Produktion, fast ein reinrassiges Metal-Album geworden und führt DAVID JUDSON CLEMMONS back to the roots. Man darf gespannt sein, wohin die Reise dieses begnadeten Künstlers weitergeht. Sein aktuelles Album gibt es einstweilen in allen gängigen Formaten (LP`s erst ab Mai!) auf seiner Homepage David Judson Clemmons – Official Music Store Page (djclemmons.com).
Alex Fähnrich vergibt 8,5 von 10 Punkten