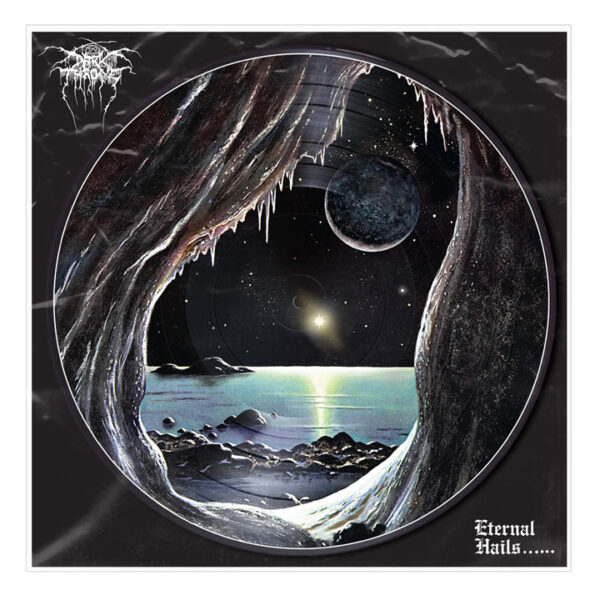 DARKTHRONE
Titel: ETERNAL HAILS……
Label: PEACEVILLE RECORDS
Spieldauer: 42:00 Minuten
Das 19. Studioalbum der einstigen True Norwegian Black Metal Veteranen DARKTHRONE liegt nun mit "Eternal hails……" vor. Und man muss sagen, dass sich DARKTHRONE im Gegensatz zum eher glatten und gefälligen Vorgänger wieder steigern konnten. War "Old Star" doch ein Album, das diese fast klassischen Happytunes in den Leads und Melodien hatte. Dagegen kommen auf der neuen Platte vielmehr die garstigen und düsteren Aspekte des DARKTHRONE'schen Soundgefüges zum Tragen. Nein, kein Necro-Black Metal der frühen Tage. Man bleibt der stilistischen Ausrichtung zwischen altem Heavy Metal, Punk, Thrash und Doom treu. Die schwarze Farbe, mit der dieser Mix angestrichen ist, ist allerdings deckender als auf den Vorgängerplatten.
'Hate Cloak', bereits vorab veröffentlicht, ist eine hypnotische Doom-Walze und offenbart wieder eine neue Facette im Sound der beiden Protagonisten Nocturno Culto und Fenriz. Und mit 'Voyage to a Northpole adrift' legen die Norweger einen sehr spannenden und abwechslungsreichen Rocker auf die Platte. DARKTHRONE schaffen es dabei im Grundtenor immer finster zu bleiben. Das mag sicherlich ein wesentlicher Unterschied zu den vorangegangenen Platten sein.
Fazit: "Eternal Hails……" ist ein Mix aus altem Heavy Metal, Doom, mit einem kräftigen Schuss Celtic Frost, ner Prise Punk und zwei Schippen Räudigkeit aus norwegischem Anbau! Einige Längen kann ich allerdings auch nicht verschweigen. Dennoch eine deutliche Steigerung zum Vorgänger.
All Hails to the Unholy Darkthrone!
Ingo Holzhäuser vergibt 8 von 10 Punkten