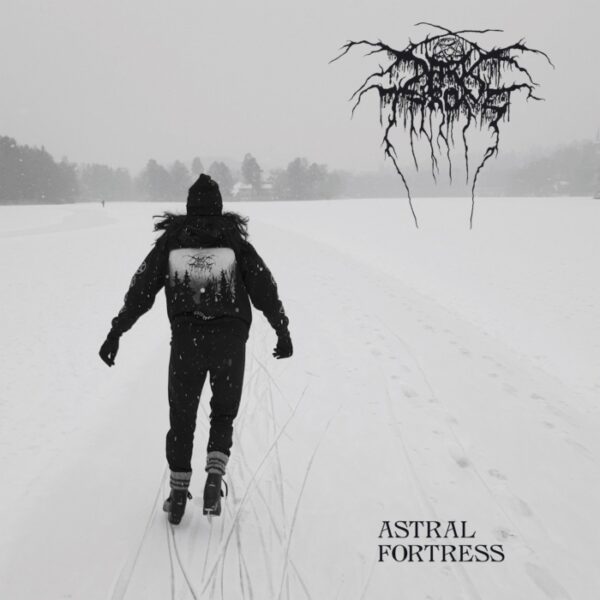 DARKTHRONE
Titel: ASTRAL FORTRESS
Label: PEACEVILLE RECORDS
Spieldauer: 40:00 Minuten
VÖ: 28. Oktober 2022
Die Norweger legen in weniger als anderthalb Jahren den Nachfolger zu Eternal Hails…… auf. Sind viele Cover der Legende bislang der Gegensätzlichkeit von schwarz-weiß gefolgt ist es diesmal das Verhältnis von weiß und schwarz. Ein Schlittschuhläufer mit einem Panzerfaust Hoodie ist vor einer winterlichen Kulisse von hinten zu bewundern.
Was bei DARKTHRONE stets Konstanten bleiben sind die Riffs, die sowohl alte Celtic Frost als auch Bathory verehren. Nocturno Cultos Gesang gleicht sich Tom G. Warriors Geächze immer mehr an und die Verneigung vor altem und kauzigen Metal geht weiter. In der Tat gibt es auf dem Album Momente, die man sich auf dem Panzerfaust Platte hätte vorstellen können. Die beiden ersten Tracks, 'Caravan of brocken Ghosts' und 'Impeccable Caverns of Satan' geben zumindest instrumental Anlass zu dieser Einschätzung.
Insgesamt lassen sich DARKTHRONE weiterhin von Bands wie Manilla Road oder Cirith Ungol beeinflussen. Der doomige Einschlag, der ja bereits beim Vorgänger schon stark vertreten war, ist auch auf "Astral Fortress" deutlich zu erfassen. Ferner sind sphärische Synths zu entdecken ('Stalagmite Necklace') und ein paar Sprenkler 70s Prog Rock veredeln den ein oder anderen Track dezent. Der Abschluss finden die zwei Norweger in 'Eon 2', ein Nachfolger zum Soulside Journey Song Eon
Trotz all dieser Einflüsse hört man recht klar wer hier musiziert. DARKTHRONE gehen nie verkopft zu Werke, sie bleiben immer nachvollziehbar und klar. Dazu trägt auch der Sound bei, der abermals im Chaka Khan Studio in Oslo entstanden ist. 
Ein schlüssiges und stimmiges Album. Wer sich die Phase 1992-1995 zurückwünscht muss die dort entstandenen Alben anhören. DARKTHRONE haben vielleicht ihren Stil geändert – was sie ja schon nach dem ersten Album getan haben – aber sie sind immer noch ein Garant für ehrliche und gute Musik. Auch wenn Plaguewielder und Old Star entbehrliche Scheiben bleiben, ist der Rest des Schaffens der beiden ein phantastischer Backkatalog.
Ingo Holzhäuser vergibt 8 von 10 Punkten