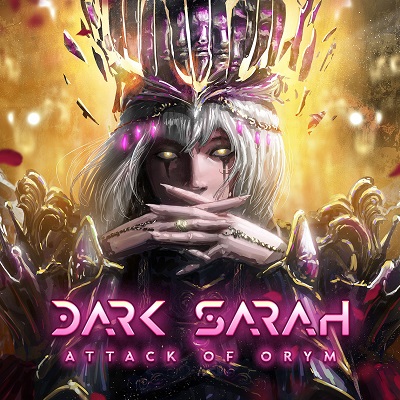 DARK SARAH
Titel: ATTACK OF THE ORYM
Label: RIENA PRODUCTIONS/BLOOD BLAST
Spieldauer: 44:36 Minuten
VÖ: 27. Januar 2023
Die finnischen Metaller DARK SARAH wurden 2012 von der ehemaligen Amberian Dawn-Sängerin Heidi Parviainen gegründet. Ihr Stil wird oft (auch von der Band selbst) als Epic Cinematic Metal bezeichnet und sie veröffentlichen nun bereits ihr fünftes Studioalbum "Attack Of Orym", welches erneut vollständig über Crowdfunding finanziert wurde.
Alle Longplayer sind Konzeptalben, die eine fortlaufende Geschichte erzählen. Die ersten drei Alben "Behind The Black Veil" (2016), "The Puzzle" (2017) und "The Golden Moth" (2018) bilden die "The Chronicles" Trilogie. Der bisher letzte Studiodreher "Grim" kam 2020 heraus.
Den Stil der Truppe kann man als einen modernen, eingängigen, dunklen Mix aus Einflüssen und Elementen des Melodic, Gothic, Power und Symphonic Metal beschreiben. Da wundert es auch nicht weiter und passt musikalisch ins Bild, dass Teile der Gitarrenarbeit von Beast in Black Saitenhexer Kasperi Heikkinen übernommen wurden.
Manche Stücke wie die Vorabsingles `Invincible´ und `Warning Sign´ oder das tanzbare `Piece Of My Heart´ sind allerdings so von den stampfenden Beats dominiert und mit Synthies und elektronischen Elemente zugekleistert, dass die Gitarren zu Nebendarstellern degradiert werden.
Das ist erstmal nicht schlimm oder sorgt für schlechte Songs, man sollte es zur Beurteilung und Einordnung jedoch wissen und berücksichtigen. Bei `Goth Disco´ schließlich ist der Name Programm, ob einem das gefällt, muss nun jeder für sich selbst entscheiden. Da ist auch das quietschbunte Artwork mit seiner Terminator-Schrift nicht anders zu erwarten und fügt sich nahtlos und wenig geschmackvoll ein.
Gottlob gibt es auch gelungene, überwiegend metallische und stimmige Tracks wie das grandiose Titelstück, dem Epica Gitarrist/Sänger Mark Jansen mit seinen harschen Growls Glanz verleiht, das symphonische `Burn´ und das eingängige `Delirium´, das nicht nur wegen des Titels ein wenig an Lacuna Coil erinnert.
Unter dem Strich bleibt aus den genannten Gründen ein durchwachsener Eindruck und nur eine begrenzte Empfehlung an Fans moderner Melodic Metal Klänge ohne ausgeprägte Synthie- und Elektrobeats-Allergie.
Michael Gaspar vergibt 6 von 10 Punkten