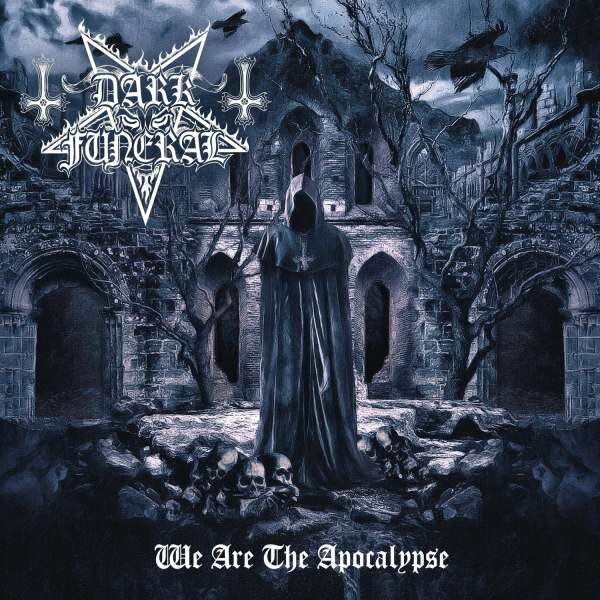 DARK FUNERAL
Titel: WE ARE THE APOCALYPSE
Spieldauer: 43:44 Minuten
VÖ: 18. März 2022
Mit ihrem siebten Longplayer im Gepäck melden sich die schwedischen Black Metal Urgesteine DARK FUNERAL nach knapp sechs Jahren Albumpause zurück. Zugegeben, die Frühphase der Band hatte mich immer am meisten fasziniert. Dennoch war das Vorgängeralbum Where Shadows forever reign ein ungeheuer starkes Statement in Sachen schwarzer Raserei und Melodieführung.
Und was soll ich sagen: "We Are the Apocalypse" setzt genau dort an wo der Vorgänger aufgehört hat. 'A beast to praise' gibt gleich die Marschrichtung und auch die Marschgeschwindigkeit vor. Treffender hätte der Titel auch nicht gewählt sein können. 'Beyond the grave' ergänzt das Highspeed-Eröffnungsdouble perfekt.
Highspeed ja, aber mit ungemein bösen und markanten Gitarrenmelodien aus der bewährten Feder von Lord Ahriman. Helharmadrs kräftiger Gesang und das unglaublich fett klingende Schlagzeug runden den typischen DARK FUNERAL Sound gekonnt ab.
'Let the Devil in' und 'Leviathan' nehmen passagenweise erstmals das hohe Tempo heraus. Zwei gute Songs, die nicht in unnötigem Pomp und Cheesyness abdriften sondern getragene Songs mit Tiefgang darstellen. Ohne Schnickschnack, Operngeträller, Keyboards oder ähnlichem.  Danach herrscht wieder die dunkle und schneidende Blastbeatkeule. Aber immer mit den schwarzen Melodien wie sie 'Nightfall' oder den Titeltrack durchweg bedrohlich erscheinen lassen. Und der Abschlusstrack 'When our vengeance is done' macht dann im Blastgewitter den Sack zu.
Fazit: Keine Frage, den Schweden ist abermals ein starkes Album gelungen, das sich doch recht nahe am Vorgänger positioniert. Und das ist Fluch und Segen zugleich, denn DARK FUNERAL verbleiben somit in ihrem eigenen begrenzten Schatten, zum anderen liefern sie aber verlässlich gute Qualität ab. Mir sagt die Scheibe zu, da sie eine sehr gute Balance aus Highspeed-Gekloppe, Melodie und getragenen Songs gefunden hat.
Ingo Holzhäuser vergibt 8,5 von 10 Punkten