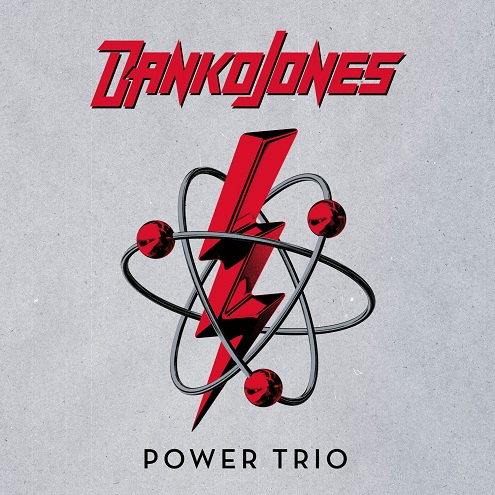 DANKO JONES
Titel: POWER TRIO
Label: MATE IN GERMANY/TONPOOL
Spieldauer: 38:17 Minuten
"Power Trio" – der Titel des mittlerweile zehnten Studio-Outputs von DANKO JONES ist in diesem Fall Programm, denn seit einem Vierteljahrhundert sind der Frontmann und Gitarrist und seine beiden Mitstreiter Bassist John 'JC' Calabrese und Drummer Rich Knox ein ebensolches.
Genauso lange pfeifen die Kanadier bereits auf jedwede Trends und Moden und liefern regelmäßig gutklassige, eigenständige Alben ab. Ihren typischen, geradlinigen Sound kennzeichnen dabei abgehacktes Riffing, verzerrte Bässe sowie Danko´s unverkennbares Organ. Wo DANKO JONES draufsteht ist halt auch DANKO JONES drin, denn Sound und Stil des Dreiers aus Toronto sind bereits nach wenigen Sekunden zu erkennen.
Der flotte Opener 'I Want Out' und das kurzweilige 'Let´s Rock Together' sind die perfekten Belege für diese These. Ein weiteres Trademark sind die launigen, teilweise selbstironischen, teilweise satirischen Texte des kanadischen Tausendsassas. Diese drehen sich auch auf dem neuen Silberling in vergnüglichen Hard Rock Songs um das andere Geschlecht ('Good Lookin''), zwischenmenschliche Beziehungen ('Get To You' und 'Dangerous Kiss') oder Danko´s andere Lieblingsbeschäftigung, das Musikmachen und Abreißen von Live-Shows ('Let´s Rock Together' und 'Start The Show').
Meine Favoriten und Anspieltipps sind jedoch das eingängige, intensive samt seinen hintergründigen Lyrics überzeugende 'Ship Of Lies', das eher langsame, hymnische 'Raise Some Hell' und das rotzig-punkige 'Flaunt It'. Am Ende des Tages ist "Power Trio" eine tadellose, unterhaltsame, aber nicht herausragende Scheibe.
Michael Gaspar vergibt 7 von 10 Punkten