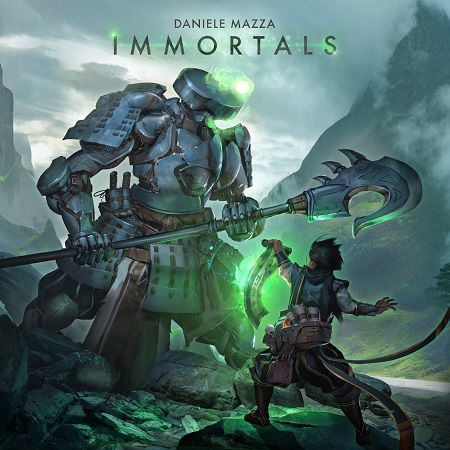 DANIELE MAZZA
Titel: IMMORTALS
Spieldauer: 45:08 Minuten
Der italienische Keyboarder und Tausendsassa DANIELE MAZZA ist Mitbegründer der Symphonic Metal-Band Ancient Bards. Mit "Immortals" legt er nun jedoch sein erstes Soloalbum vor, dass in den Bereich des Epic Cinematic Filmscore fällt.
Der Streifen zum Soundtrack der "Unsterblichen" muss also erst noch gedreht werden und doch lassen die monumentalen orchestralen Kompositionen des Multitalents aus der Emilia-Romana prächtige Bilder vor dem geistigen Auge entstehen.
Die Geschichte verläuft von der Einleitung im Titelsong über das heldenhafte Schlachtengetümmel in 'In The Heart Of Battle' bis zum traumhaften Flug auf dem Drachen ('Riding The Dragon') in den Sonnenuntergang ('Beyond The Horizon'). Im Vordergrund stehen dabei naturgemäß das Keyboard und die gesampelten Orchestrierungen und Chorklänge.
Von Rock oder Metal kann hier also nicht die Rede sein, die wenigen Gitarren muss man schon fast mit der Lupe suchen, und die Vokalparts beschränken sich weitestgehend auf die Chorpassagen, mit einer Ausnahme. Die Solo-Stimme im mitreißenden, balladesken Track 'Time To Go' wurde von Sopranistin Sara Squadrani (Ancient Bards) beigesteuert.
Aresea-Sängerin Chiara Di Mare ist mit Background-Vocals zur Untermalung der Chor-Sequenzen zu hören und die wenigen Malmsteen-artigen Leadgitarren und Soli wurden von Ancient-Bards-Gitarrist Claudio Pietronik beigesteuert.
Insgesamt ein kleines, monumentales Meisterwerk, das aber nur für Fans von üppigsten Synthiesounds und Blockbustersoundtracks sowie Liebhaber von Filmscore-Komponisten wie Hans Zimmer oder Thomas Bergersen und Nick Phoenix alias Two Steps From Hell interessant sein dürfte.
Michael Gaspar vergibt 8 von 10 Punkten