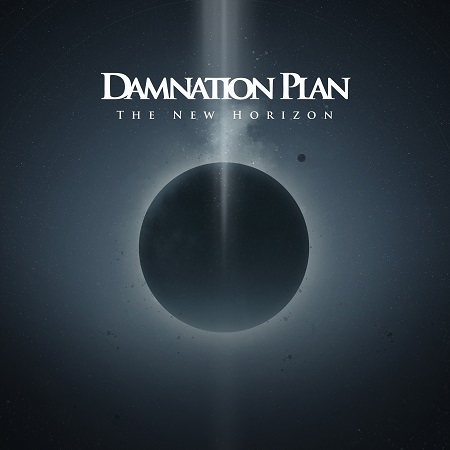 DAMNATION PLAN
Titel: THE NEW HORIZON
Spieldauer: 32:52 Minuten
VÖ: 08. September 2023
Der finnische Progressive Metal Act DAMNATION PLAN stellt sein neues Studioalbum "The New Horizon" vor.
Entgegen früherer Kategorisierungen spielen die Jungs weitgehend lupenreinen, harten, modernen, rhythmischen Prog Metal. Das ein oder andere Melodic Death Metal Versatzstück ist zwar in Form der schneidenden Riffs und einiger dezenter Growls beim grandiosen `Under The Veil Of Sea´ noch vorhanden, doch es dominiert ein packender, düster-melancholischer, progressiver Sound.
Das hat sicherlich auch mit dem Weggang des zweiten Sängers Tommy Tuovinen (MyGrain) nach Veröffentlichung des Vorgängers "Reality Illusion" (2017) zu tun, da nun der verbliebene Fronter Asim Searah alle Vocals übernimmt und diese zu 99% clean sind.
Das Quintett kreiert einen emotionalen, heavy riffenden und handwerklich anspruchsvollen Prog Metal Mix und webt breite und bunt angelegte Keyboardteppiche. Die Lyrics der Band setzen sich kritisch mit Mainstream Tabus und der zunehmenden Ignoranz der Massen auseinander.
Dies spiegelt sich auch im wie immer von Drummer, Produzent, Songwriter und Texter Jarkko Lunnas gestalteten Coverartwork wider, welches einen verdunkelten Planeten, einen globalen Wandel, eine Teilung, Angst vor Auslöschung, aber auch die Hoffnung auf einen neuen Anfang symbolisiert.
Die fünf Stücke sind verschachtelt, interessant und vielseitig, aber nicht überladen, und kommen so auf eine Spielzeit von einer guten halben Stunde.
Zudem sind insbesondere der startende Titelsong als auch das mitreißende `To The Sun´ echte Prog Ohrwürmer mit Langzeitwirkung und Suchtpotential. Und auch die harte, dunkle Vorabauskopplung `Dreamdead´ ist fesselnd und überzeugt auf ganzer Linie.
Wie die gesamte Scheibe nicht sonderlich originell, spektakulär oder innovativ daherkommt, aber musikalisch einwandfreien, kurzweiligen Progsound bietet, der vor allem von der düster-schwermütig-hoffnungsvollen Stimmung als auch der emotionalen Tiefe profitiert.
Michael Gaspar vergibt 7,5 von 10 Punkten