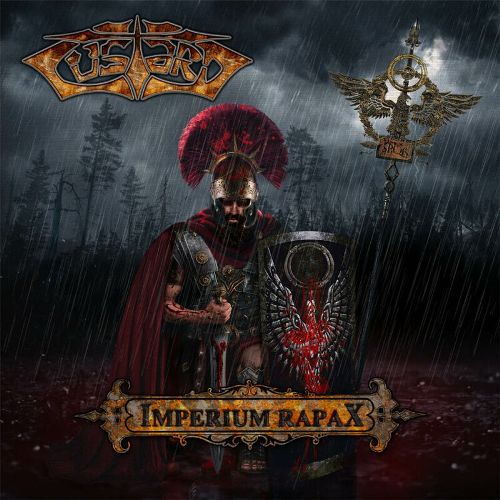 CUSTARD
Titel: IMPERIUM RAPAX
Spieldauer: 51:31 Minuten
Bei der Herner Kapelle CUSTARD habe ich ja sogar noch einen kleinen lokalpatriotischen Einschlag aufgrund der Nähe meines Heimatortes zu Herne.
Anyway, dafür können und müssen sich die Power Metaller von Custard nix kaufen, deren neues Werk "Imperium Rapax" ein Konzeptalbum um und über das Römische Reich und dessen Geschichte darstellt.
Solch ein Thema erfordert natürlich die nötige Portion Epik und Pathos, die CUSTARD dem Thema auch musikalisch geben. Das beginnt bei einem Track wie dem schnellen 'Children Of The Wolf' mit seinem hymnischen Refrain, dem stampfenden, an neuere Manowar Songs erinnernden 'Res Publica' oder dem hymnischen Mid Tempo Banger 'Blessed By Baal'.
Aber auch das den Silberling abschließende Triple in Form des Stampfers 'Ode To The Flames', der fette Mid Tempo Banger 'Morituri Te Salutant' und das epische 'Quo Vadis' sind mehr als gelungene Tracks.
So muss ich den Jungs aus Herne auch ohne Lokalkolorit zu gestehen eine gelungene Power Metal Scheibe geschaffen zu haben, die mir acht Punkte wert ist. Ausgesprochene Freunde europäischen Power Metals können wahrscheinlich noch nen halben Punkt hinzu addieren.
Ludwig Lücker vergibt 8 von 10 Punkten