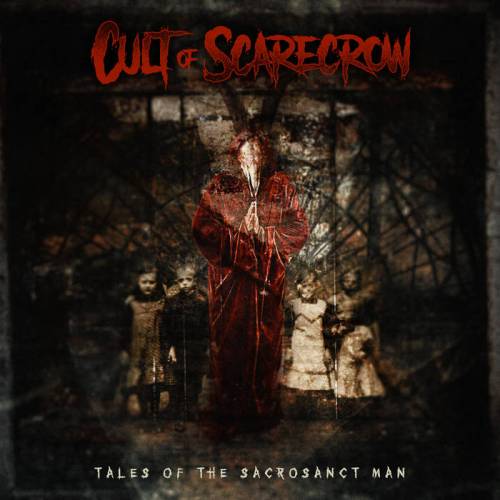 CULT OF SCARECROW
Titel: TALES OF THE SACROSANCT MAN
Spieldauer: 47:13 Minuten
CULT OF SCARECROW finde ich zwar persönlich einen etwas wenig einprägsamen Namen, aber, und das kann ich hier schon verraten, die Mucke der Truppe aus Belgien passt.
" Tales Of The Sacrosanct Man" ist das Debüt der Band aus Ost Flandern, die bisher lediglich eine EP aus dem Jahre 2018 in ihren Meriten stehen hatte.
Doom Metal ist das Metier des Sextettes, was aber durch einige Anleihen aus dem Bereich des traditionellen Metals ergänzt und verfeinert wird. Das beweist gleich der doomige, groovige Opener, der zudem quasi der Titeltrack des Drehers ist, 'Sacrosanct Man', aber auch das schwer groovende, mit Trouble Vibes daher kommende 'Robotized' kann dies belegen.
Ihre besten Momente haben die Belgier bei dem aneinander gereihten Triple von 'Pitch Black' , welches nach melodisch, ruhigen Beginn in einen fett groovenden Banger wechselt, um dann in doomigen Gefilden aus zu laufen, dem stampfenden 'Doorkicker03' und dem nach sakralen Beginn mit einem geilen Drum Groove in drückendes Mid Tempo verfallende 'This Blood's For You'.
Richtig veredelt werden die Tracks dann noch von den coolen, dunklen Vocals von Filip De Wilde, der auch zu einer Band wie Candlemass passen würde.
Da auch der Sound ordentlich drückt und sich das Keyboard eher unterstützend im Hintergrund hält, kann ich gepflegten Doomern diese Scheibe von CULT OF SCARECROW nur ans langsam schlagende Herz legen.
Ludwig Lücker vergibt 8,5 von 10 Punkten