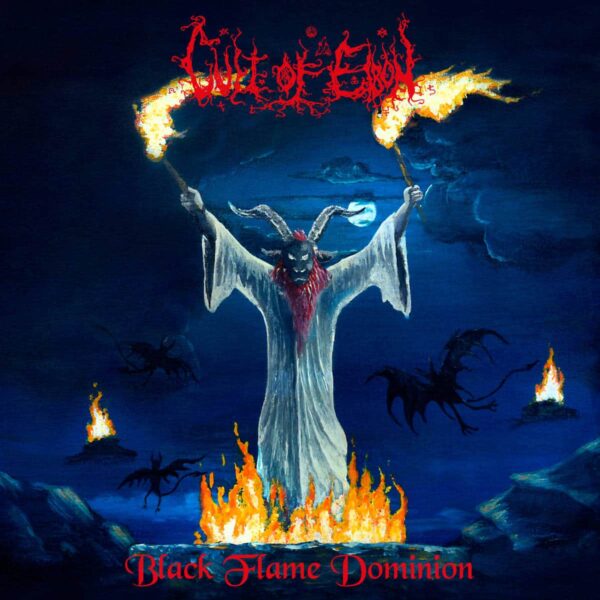 CULT OF EIBON
Titel: BLACK FLAME DOMINION
Label: IRON BONEHEAD PRODUCTIONS
Spieldauer: 39:02 Minuten
Die Hellenen CULT OF EIBON, gegründet 2015, veröffentlichen mit "Black Flame Dominion" ihre erste vollständige Platte. CULT OF EIBON erfinden natürlich keine neuen schwarzen Zauberformeln für ihre Musik und dennoch finden sich einige Besonderheiten im Sound. Abgesehen vom etwas zu stark hineinfuhrwerkenden Keyboard fahren die Athener einen phantastischen – bisweilen gar kauzigen – Gitarrrensound auf. Hier kommt so ein bisschen Proto-/NWoBHM Feeling auf.
Die Songs sind ingesamt im Midtempo gehalten, wissen aber durch angemessene Tempiwechsel die nötige Abwechslung reinzubringen. Die Vocals sind abwechselnd kehlig-gruntig oder heiser und vermögen die bösen Texte entsprechend gesangtechnisch zu untermalen. Anspieltipps: Neben dem Titelsong sind noch 'The Dreamer and the morning Star', 'Phaesphoros' oder auch das abschließende 'The mournful Chime of Charon's Bell' als empfehlenswerte Reinhörtracks zu nennen.
Jetzt könnte man ja fast erwarten, dass hier alles in Butter ist. Nun, ich bin erstaunt, wie gut in der Tat die Songs in ihrer Rohheit und gebotenen Primitivität hier auch vorgetragen und zelebriert werden. Sieht man vom etwas zu präsentem Keyboard mal ab, fällt vor allem der Drumsound negativ auf. Auch wenn ein Drummer in den Reihen der Musiker erwähnt wird, hört sich das Schlagzeug auf der Scheibe leider zu künstlich an. Es passt nicht zum Rest des Sounds. Bleibt dennoch eine interessante Platte!
Ingo Holzhäuser vergibt 7 von 10 Punkten