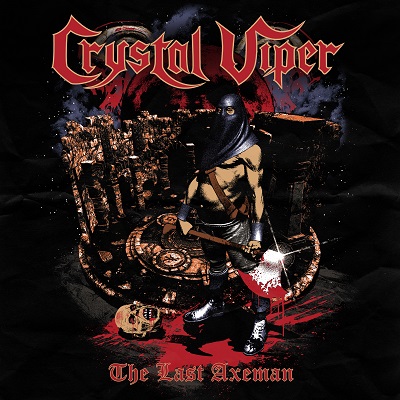 CRYSTAL VIPER
Titel: THE LAST AXEMAN (EP)
Label: LISTENABLE RECORDS
Spieldauer: 36:54 Minuten
VÖ: 25. März 2022
2021 veröffentlichten die polnischen Metaller CRYSTAL VIPER rund um Frontfrau Marta Gabriel ihr Studioalbum "The Cult" und legen nun mit der "The Last Axeman"-EP nach, die mit acht Tracks annähernd so viel oder gar mehr als mancher Longplayer bietet.
Der Titelsong ist eine Neuaufnahme des bereits bekannten Songs, der vom gleichnamigen Listenable Records Sampler (2015) stammt und der dann auch die pure NWOTHM-Power mit den unnachahmlichen, kraftvollen Vocals der Sängerin bietet. Das neue Stück `In The Haunted Chapel` steht dem mit etwas melodischeren Vocals und einem langem Solo in nichts nach und wurde von einer Geschichte des Schriftstellers H.P. Lovecraft inspiriert.
Darüber hinaus covert der Fünfer den Song `Ulitsa Roz` der russischen Metal-Band ARIA (vom Album "Geroy Asfalta", 1987), welcher mit eindringlicher Intensität, ein wenig russischer Melancholie und in der Landessprache dargeboten wird, sowie in ebenso beeindruckender Manier die Diamond Head-Hymne `It's Electric` vom 1980er "Lightning To The Nations" Album.
Hinzu kommen vier "Live im Studio"-Aufnahmen der Albumtracks `The Cult`, `Asenath Waite`, `Whispers From Beyond` und `Flaring Madness`. Diese reduzierten, rauen Versionen zeigen dennoch und hautnah die pure Energie der Band, stammen aus den sogenannten, während der Lockdowns entstandenen "RockOutSessions" und sind bereits als 20-minütiges Video erschienen.
Fazit: kurzweilige, hochwertige EP, die drei exklusive Aufnahmen, darunter ein brandneuer Song, und  auch sonst jede Menge Metal fürs Geld bietet.
Michael Gaspar vergibt 8 von 10 Punkten