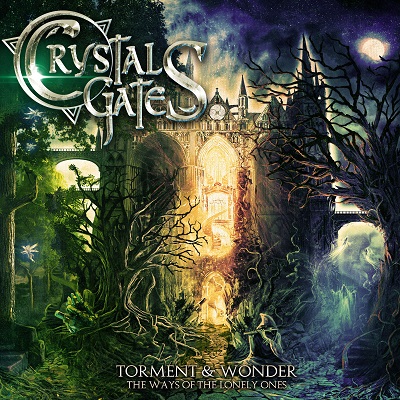 CRYSTAL GATES
Titel: TORMENT & WONDER: THE WAYS OF THE LONELY ONES
Label: WORMHOLEDEATH RECORDS
Spieldauer: 51:24 Minuten
VÖ: 29. Juli 2022
CHRYSTAL GATES sind eine 2013 in Uruguay von Sängerin Carolina Pérez und Gitarrist Benjamin Machin gegründete Symphonic Power Metal Band, die es nun nach Lettland verschlagen hat und die ihr erstes Full-Length-Studiowerk "Torment & Wonder: The Ways Of The Lonely Ones" veröffentlicht.
Die meisten Songs der Scheibe sind schnelle Power Metal Stampfer oder eher getragene Mittempo Nummern mit jeweils hellen, klaren, nicht allzu "operesken" weiblichen Vocals. Die etwas langsameren Stücke wie `A Lonely Dreamer´s Wish´ oder die Vorabauskopplung `Moonshine & Sorrow´ wirken dabei etwas symphonischer und theatralischer, dafür wenig energiegeladen und packend, was vermutlich in der Natur der Sache liegt.
Die flotteren Tracks mit erfrischenden Melodien, schnellen Leads und Doublebass machen da in meinen Augen deutlich mehr Laune. Hier seien als Beispiele und Anspieltipps die beiden Singles `My Glorious Fall´ und `Alive For The Journey´ sowie das grandiose `Winter Ghost´ genannt.
Insgesamt sind sich jedoch auch diese Songs zu ähnlich, was das Album ein wenig eintönig und wenig abwechslungsreich geraten lässt. Auch die besseren, schnelleren Stücke verbleiben nicht unbedingt im Gedächtnis, könnten "catchier" sein und wirken teilweise austauschbar, während die moderat-festlichen gewisse Längen aufweisen.
Selbst das abschließende, zwölfminütige Epos `Torment & Wonder´ macht da keine große Ausnahme, zeigt aber mit mehr Dynamik, Abwechslung und Orchestrierungen deutlich, wohin die zukünftige Reise gehen könnte. Die ein oder andere überzeugende Nummer kann man als gelungenen Stand-Alone Symphonic Power Metal durchaus genießen, aber auf Albumlänge überzeugt das Ganze (noch) nicht.
Michael Gaspar vergibt 6,5 von 10 Punkten