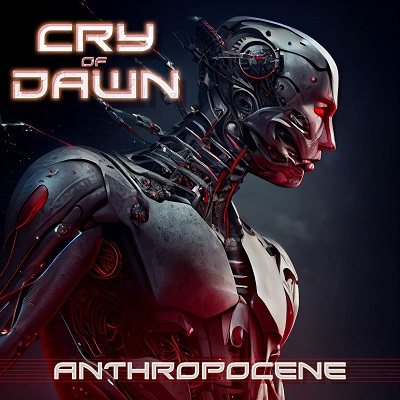 CRY OF DAWN
Titel: ANTROPOCENE
Spieldauer: 48:42 Minuten
VÖ: 19. Mai 2023
Das Melodic Rock/AOR Projekt CRY OF DAWN legt sein Zweitwerk vor und dieses beinhaltet wie schon das selbsbetitelte 2016er Debütalbum Leadvocals des Schweden Göran Edman (Yngwie Malmsteen. Brazen Abbot, John Norum, Glory, Kharma).
Für "Anthropocene" macht Edman gemeinsame Sache mit Produzent/Songwriter/Gitarrist Tommy Denander, um eine klassische, gradlinige AOR Platte zu erschaffen, die an die glorreiche Zeit des Genres erinnert und anknüpft.
So bieten die elf neuen Tracks gefälligen, traditionellen Melodic Rock mit viel Synthieglasur, der nicht weh tut oder überrascht und daher auch nicht so richtig begeistern kann. Direkt der mega-eingängige Opener `Devils Highway´ ist die catchy Hitsingle des Albums, das abschließende, schnelle, mitreißende `High And Low´ steht dem kaum nach.
Dazwischen jedoch tummelt sich eine Menge musikalische Durchschnittsware, zwar solide und technisch einwandfreie Kompositionen zweier kompetenter Altmeister, aber eben auch etwas austauschbar, gleichförmig und vor allem mit auffallend wenig Wumms und Energie.
Bis auf das gute, atmosphärische `Swan Song Of Our Love´ und das packende `Sign Of The Times´ mit seinem schicken Gitarrensolo plätschert die Scheibe so vor sich hin und ein wenig eintönig und gewöhnlich am Hörer vorbei.
Fazit: musikalisch im grünen Bereich, jedoch in großen Teilen unspektakulär und merkwürdig träge und kraftlos und nur mit wenigen packenden Glanzlichtern aufwartende Scheibe. Und nicht zu vergessen sorgt das komplett unpassende, futuristische Coverartwork für Verwirrung.
Michael Gaspar vergibt 6,5 von 10 Punkten